By Air
Jinghong Airport (Jinghong is the capital city of Xishuangbanna Region), the second largest airport in Yunnan province next to Kunming Airport, is only 5 kilomters away from the city center. Direct flights to Kunming, Dali, Lijiang, shanghai, Shenzhen, Tianjin as well as international flights to Bangkok and Chiang Mai of Thailand, Vientiane and Lang Prabang of Laos are available. There are at least 2 flights to and fro between Kunming and Jinghong every day and reach to 6 to 10 flights during high season. The flight distance between Kunming and Jinghong is 520 kilometers which lasts 50 minutes and charges RMB780. There are always discounted prices.
There are airport buses bringing passengers to the downtown and the fare is RMB 4. Tourists also can take No.1 bus; the bus stop is situated 500 meters away from the airport.
Tel for Booking Service: 0691-2124774 0691-2124055
Address: Western Jingde Road
Tel for complaint: 0691-2122323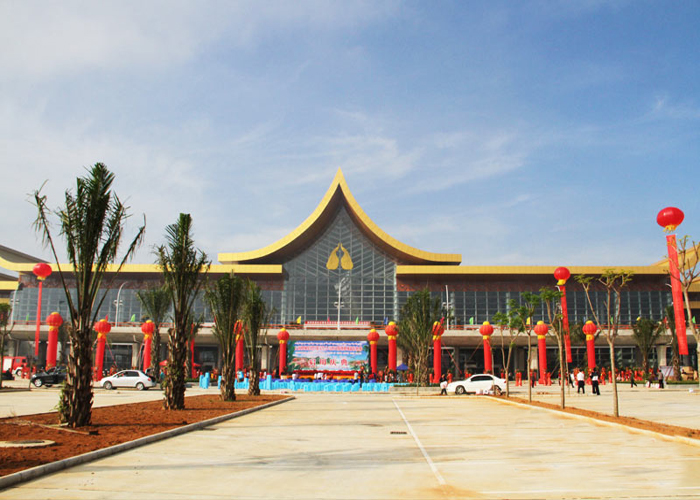 By Bus
National highways 213 and 214 and three international highways connect Jinghong (the capital city of Xishuangbanna) with Kunming (the capital city of Yunnan province), Dali (a major city of Yunnan province), Nanning (capital city of Guangxi province), Thailand, Burma and Laos. There are altogether 3 long distance bus stations in Jinghong: Jinghong South Long Distance Bus Station (located at No.77 Menghai Road, Tel: 0691-2135198); Jinghong North Long Distance Bus Station (located nearby South Long Distance Bus Station); Jinghong Long Distance Bus Station (No.23 Jinghong North Road).
Kunming to Jinghong
As the fully complement of the expressway between Kunming and Jinghong, it needs 9 hours at most traveling between the two cities. There are over 20 buses traveling to Jinghong in Kunming Long Distance Bus Station. Ticket ranges in price from RMB150 to RMB200.
Nanning to Jinghong
Thanks to the finish of the expressway between Kunming and Bangkok of Thailand, the long distance buses traveling to and fro Nanning and Jinghong are available since July 2008. The bus traveling from Nanning to Jinghong is available at 9:30am every day in Jiangnan Long-distance Bus Station of Nanning and the journey lasts 22 hours. The bus traveling from Jinghong to Nanning starts at 11am every day at Jinghong Long-distance Bus Station.
Dali to Jinghong
There are two buses traveling from Dali to Jingong respectively start at 19:30pm and 20:30pm everyday at Dali Long-distance Bus Station.
By Boat
The Lancang River is the main channel and Jinghong is a first class national port, making up of three ports :Jinghong,Olive Dam and Guanlei. Up to now, the international water passages have been open to Qingshen of Burma, Vientiane of Laos etc. And the ports of Olive Dam and Guanlei are still under construction. From the north of Jinghong, boats at the Lancangjiang River can take you to Olive Dam. By the way of the Lancangjiang River and the Mekong River visitors can reach Jinghong by boat from all the countries in Southeast Asia.
Tel of Banna Steamboat Company: 0691-2122947
Local Transport
Buses
Three buses can drive you to all the tourist spots in Jinghong city.
Taxis
All the taxies in the urban district are charged by the odometer with the starting fare of 7yuan. If the drivers don't obey the rule, you may refuse to pay or complain to the company by call.
Travel Taxi Rental Company: Tel: 0691-2127150
Address: Mingzu Nanlu(The Southern Minority Road)
Wanli Travek Taxi Rental Company: Tel: 0691-2124704
Address: Northern Jinghong Road
Bicycle
In the small city it's a good idea to go sightseeing by bike. All the hotels offer bicycle rental service
Rickshaw
You can hire a rickshaw to visit the city with fare of RMB 2 yuan.
Travel XishuangBanna with Laos and Thailand along the Mekong River
China to Laos (Mengla to Luang Nam Tha)

--------------------------------------------------------------------------------
After our visit to the Botanical Gardens in Menglun, we took a bus to nearby Mengla, from where we travelled to the Lao border the next day.
Transport and Procedures
This summer we crossed from China into Laos and found that the border crossing is a mere formality. We left the dour Chinese town of Mengla at 7.00 am and by 9.30 we were already in Luang Nam Tha. As it was pouring down with rain when we left the hotel, we simply took a taxi all the way to the border at Mohan, the journey took about 45 minutes on a spanking new highway and cost a very reasonable 150 Yuan. At Mohan we had to wait a bit, as the Chinese border post doesn't open until 8.30 am, when the flag is raised with much pomp and ceremony.
There are, however, many other ways you can go: there are minibuses to Mohan that leave every 20 minutes from the Southern bus station. Moreover, there is one daily bus from Mengla directly to Luang Nam Tha that leaves from the Northern bus station at 9.30 am. As we hadn't been able to book tickets or even speak to the bus staff, we didn't want to wait for this direct bus, in case there was a problem with us not having Lao visas yet and needing to get them at the border.
For those with very little time, there are even daily sleeper buses that go all the way from Kunming to Vientiane and Luang Prabang. New smoother highways, especially on the Chinese side, mean that this option may not be quite as horrific as it once was.
Once you have been 'stamped' out of China, a tuk-tuk will whiz you from the Chinese border post to the Lao one, for 5 Yuan a person.
Procedures on the Lao side are easy and transparent: a list of visa fees for different nationalities is posted on the window and you are asked to fill in a form, hand over one photo and pay the fee (in our case 35 Dollars). Then you are 'stamped' in for a duration of 30 days.
There is nowhere to change money at the actual border post, for that you will have to go to the first Lao town, which is Boten. However, Chinese currency is widely accepted.
From the border post, you can take a sawngthaew, the converted pick-up trucks with benches that provide much of Lao transport, to Boten, where you can pick up a bus to Luang Nam Tha. Alternatively, you can hire your own sawngthaew all the way to Luang Nam Tha for around 120 to 150 Yuan, depending on your bargaining skills.
One thing that surprised us here but seemed normal all over Laos, is that even when you hire or charter an entire vehicle, the driver will still let local people on for short distances. Given the precarious state of transport in many places, we didn't really mind.
Accommodation
If you can avoid staying in Mengla you would be doing yourself a favour, as the town is a bit of a dump. We stayed in a cheap and fairly nasty Chinese hotel, almost opposite the Northern bus station. The price of 60 Yuan a double was its only redeeming factor. Later on we saw several better options, all on or just off the main drag: the Hai La Hotel, a grey stone building with columns at the front, close to the Southern bus station with doubles for 120 Yuan, the pleasant-looking Post Hotel, attached to a telecommunications building and with its entrance just off the main street, and even an up-market white multi- story hotel right in the centre.
However, with the recent opening of new highways you shouldn't really have to stay in Mengla: Xishuangbanna's pleasant capital, Jinghong, is now within easy reach of the Lao border, as is the much nicer town of Menglun with its fantastic botanical garden.
Lastly, the tiny, one-street border town of Mohan looked brand-new and cheerful when we passed through. We spotted a couple of simple, but clean-looking guesthouses and restaurants, which might make this quite a bearable option, should you arrive too late to enter Laos.
PART SIX: Thailand to China by Boat

--------------------------------------------------------------------------------
As we mentioned at the beginning of Jinghong Revisited, in the summer of 2008 we arrived in Xishuangbanna by boat from Thailand.
Sailing up one of the remotest and most striking stretches of the Mekong River with Laos on the right and Burma on the left is a great way to enter China. The trip takes a about a day and a half, and is easy to organise.
The boat leaves the Northern Thai town of Chiang Saen on Mondays, Wednesdays and Fridays. Boats return to Thailand from the Chinese city of Jinghong on Tuesdays, Thursdays and Saturdays. Tickets cost 800 Yuan or 80 Euros. If you are paying in Thai Baht it works out at about 4000 B, depending on the fluctuating exchange rate.
We got our tickets by ringing Gin's Guest House ( 0 5365 0847 / 1023) in Chiang Saen in advance and making a reservation. You might be able to get your own tickets at the office of the Xishuangbanna Tianda Tourism and Shipping Company in Chiang Saen. The office is by the Mekong, a little way South, down Th. Rimkhong, though the telephone number 0 5365 1136, quoted by Lonely Planet, was no longer in use.
Your passport has to be handed in to Thai immigration the day before you leave. This is due to the unsociable departure time of the boat at 4.30 a.m. An official fee of 300 Baht is paid to Thai immigration for working out of hours. It's 150 Baht if you don't want a receipt! Your passport is returned to you on the boat. Apparently, at other times of the year when water levels are lower, the boat leaves later, around 6.00 am. Part of the year, the boat service is discontinued completely.
Once you have secured your passage, you can explore the attractions of sleepy and relaxed Chiang Saen. It is worth spending a day or two exploring the ruins of an ancient Thai kingdom, or making an excursion into the Golden Triangle. If the weather is good, you can get a real Thai massage while watching the sunset over the Mekong. Follow up your massage with a great meal, sitting on bamboo mats in front of the night stalls by the river. Bliss!
The boat has the aspect of something you might play with in your bath tub, but it does float and goes at a good clip. It can seat 50 people, but fortunately there were only 15 of us. If it were full, it would be unbearably uncomfortable. The seats recline so much that any Westerner would find their lanky legs pushed up to their chests. Apart from the indoor seating, there is a small deck to get some air and appreciate the views. The crew will oblige you to put on a flimsy life jacket before venturing out. Even if you haven´t brought any supplies, you won´t starve: you will be served some boiled eggs and a carton of Chinese milk ( if you dare) to start your trip. Lunch is also included, though it might be a good idea to bring some water.
The views are stunning most of the way: thick jungle on both sides tumbles down to the river, with the odd temple and thatched villages to break the intense greenery. Villagers can be seen canoeing and fishing, while children wave frantically at the boat. The only town of any size is the Laotian Mekong town of Xiang Kok. However, the boat doesn't stop. The majority of the passengers are Chinese business people who have done the trip many times before. They mostly sleep during the journey, which means you will have the small deck to yourself.
At around 17.30 / 18.00, the boat arrives at the Chinese Immigration and Customs town of Guanlei, a ramshackle frontier town with a market, a few hotels and restaurants. No matter what anyone in Thailand says about reaching Jinghong in one day, you are going to spend the night, courtesy of the boat company, in Guanlei, as the boat can´t sail in the dark. However, the reverse journey downstream from Jinghong to Chiang Saen can be done in a day.
It's in Guanlei where your passport will be stamped and your luggage searched. We were given a full interrogation and search as we entered during the Olympic games. They were looking for unaccredited journalists. This will probable ease up now.
You will be put up, free of charge, at a hotel near Customs. The hotel is a typical cheap Chinese hotel with friendly staff, so- so rooms with dodgy plumbing and the town's main disco next door. Guanlei has a Bank of China, which should presumably have an ATM, but there are no other money changing facilities. We were lucky enough to arrive with some Yuan left over from previous trips. The local restaurants are surprisingly good and cheap, with a wide selection of dishes, including vegetarian options, and cold beer.
The boat was scheduled to leave at 7.00 am the next day, but that seemed to depend on the whims of the crew. We eventually left at 8.00, after they´d all reported back to work, sleepy-eyed and possibly hung-over. Don´t panic if you can´t find your boat, it doesn't necessarily leave from where you disembarked the day before. Try to follow other passengers you recognise from the boat. We found ours hidden away behind some of the larger Chinese freighters that ply the Mekong.
The boat pulls into Jinghong about 3 hours later. A taxi from the port to the centre of Jinghong costs 5 Yuan.