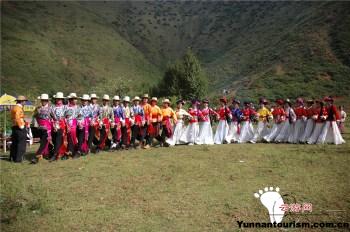 Gemu Mountain, towering loftily beside Kugu Lake of Ninglang, looks like a lady gazing into the distance. In the mind of Mosuo people (a branch of Naxi), it is the avatar of Goddess of Love and Beauty.
It's said that in the far old days, an attractive and diligent girl lived at the foot of Gumu Mt. She was as bright as the moon, as pure as the limpid water of Lugu Lake. All the boys got crazy for her, and all the male gods in heaven fell in love with her. On lunar Jul 25th of some year, a male god transformed himself into a gale and tried to blow her to the heaven. But when people saw the girl in the sky and shouted, he got panicked and lost her. However, the girl couldn't get back onto the ground though she was "let go" and finally turned into a high mountain. Her soul became a Goddess riding a white horse, playing a bamboo flute, and looking at her hometown in sorrow. She is said to be patrolling around Lugu Lake and sheltering her fellowmen.
Centuries have gone by, but Mosuo people have held for her sacrificial ceremonies on each lunar Jul 25th, they named it Pilgrimage Day/Festival (Chao Shan Jie). During the festival, Mosuos get attired, ride horses and drive vehicles to have picnic in Gumu Mt. The youth would walk around the mountain and pray to their Goddess.