Xingmeng Mongolian Autonomous Township of Tonghai County is to hold Nadam 2011 Fair to celebrate its 23rd anniversary, and display its profound history and ethnic culture.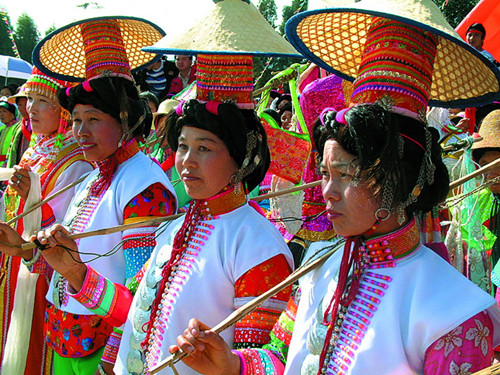 (Xingmeng Mongolian ladies dressed in their traditional costumes)
Nadam Fair
Nadam in the Mongolian means "game" or "entertainment" and is held in lunar June every three years. As a grand event for the traditional Mongolian sport games and cultural activities, Nadam Fair has enjoyed a long history of more than 800 years. Activities for this year's Nadam Fair will include cultural programmes, sport games, business negotiation, tourism promotion, and farm product exhibition, all of which aim to display the Yunnan's Mongolian culture and increase the popularity of Xingmeng.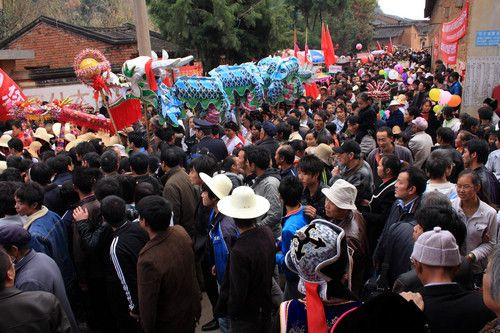 (Ancestral sacrifice offering ceremony)
What is worth going for is the grand ceremony of ancestral sacrifice offering, fire worshipping ceremony, evening bonfire party, and three major sport games for Nadam such as horse racing, archery and wrestling. In addition, it is a good opportunity to experience the Mongolian cuisine with Yunnan characteristics.
Xingmeng is where you find authentic Mongolian ethnic culture in Yunnan
Xingmeng Mongolian Autonomous Township was established in 1988 as the Yunnan province's only township inhabited mainly by Mongolians who account for at least 95% of its population of some 5,500.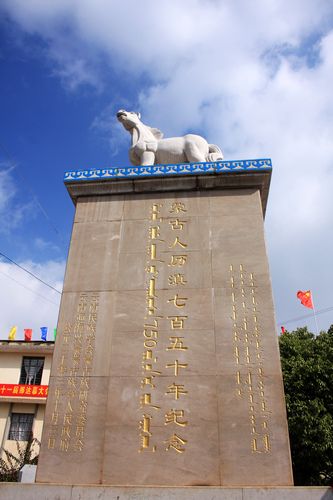 (In front of Xingmeng Township Government, a monument was erected in 2003 to commemorate the 750th anniversary of the Mongolians' settlement in Yunnan province)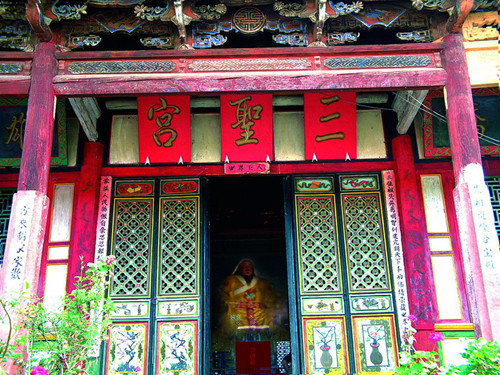 [ Sansheng Palace of Xingmeng is where the Three Mongolian Saints are enshrined, namely Genghis Khan (1162-1227), Kublai Khan (1215-1294) and Mongke (1209-1259) ]
Xingmeng Mongolians are believed to be the descendants of the Mongolian soldiers who garrisoned at Qutuoguan Pass of Tonghai after 1253 when Kublai Khan (1215-1294) led Mongol troops southwards to conquer Dali Kingdom (938-1253). Undergoing vicissitudes of dynasties in the past seven centuries, Mongolians here have transformed their life style from herders and then fishermen to nowadays farmer/peasants. In the long course of interacting and fusing with other nationalities, Xingmeng Mongolians-who are always hard-working, brave and unsophisticated-have created a distinctive ethnic culture of their own; their language, costumes, folk songs and dances, cuisine, festivals and celebrations, etiquettes, customs, and religion remain pretty rare in Yunnan province as special draws to many experts and tourists.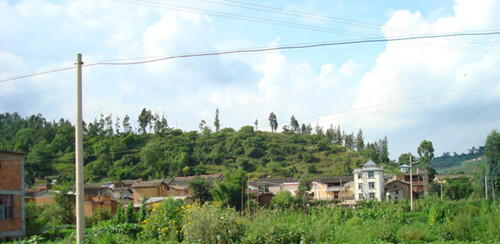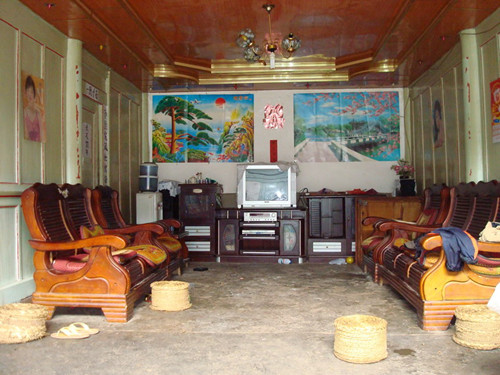 (Surviving on farming rather than animal husbandry, Mongolians in Xingmeng have been living in the most popular houses of Yunnan rather than yurts one can find on the vast grasslands in the north of China)
Travel Tips
①:Xingmeng Township is 11 km from county seat of Tonghai, 129 km from Kunming. Bus ride to Tonghai is available in Kunming South Bus Station. If you are directly Yuanyang or Jianshui-bound, you will drive through Xingmeng;
②: Xiushan Mt. Park is the most famous tourist attraction in Tonghai County.