Famous as the 'Oriental Switzerland', Dali has around 126 days in the year with temperatures around 18-21 C (54-66 F) which is the most appropriate temperature for taking a break. In addition, it enjoys abundant sunshine which is most welcome during the winter months thanks to its high altitude. In other words, this is a year-round travel destination, with colorful flowers blossoming everywhere.
Although the annual temperature range is not great, daily fluctuations are significant in winter. There may be strong winds besides. There are over 10 days in December, January and February with wind above force 8. 'Xiaguan Wind' is an unusual experience here. If you go there around the Chinese Spring Festival, remember to equip yourself for wind and rain.
After the cold winter, March ushers in the warmth of spring and this lasts till September. There is no hot summer here. Most of the Bai minority's festivals fall in March and April when you can enjoy both the beautiful natural landscape and the deep ethnic flavors. T-shirts, shorts and a light over coat are enough for this time. Rain gear is also advisable from May to September when it is the rainy season.
CLIMATE GRAPH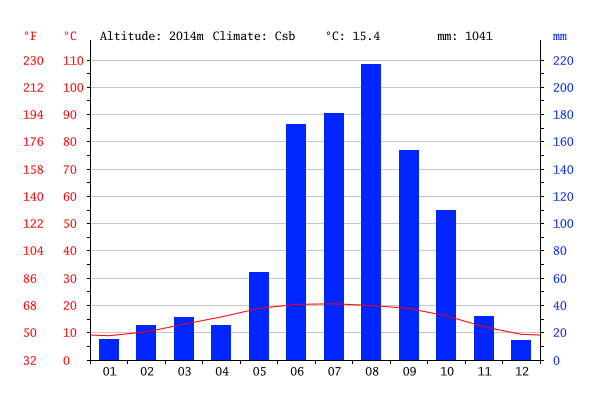 The least amount of rainfall occurs in December. The average in this month is 14 mm. The greatest amount of precipitation occurs in August, with an average of 217 mm.
TEMPERATURE GRAPH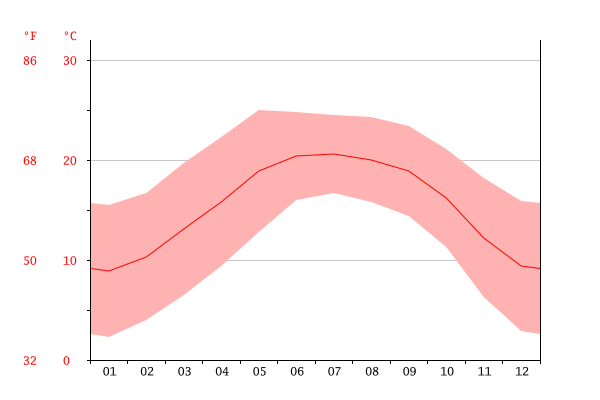 The temperatures are highest on average in July, at around 20.6 °C. The lowest average temperatures in the year occur in January, when it is around 8.9 °C.
CLIMATE TABLE

The variation in the precipitation between the driest and wettest months is 203 mm. The variation in temperatures throughout the year is 11.7 °C.