An overview of The three pagodas
The magnificent Chongsheng Temple and the well-known Three Pagodas are the symbol of Dali. Originally, the Chongsheng Temple was built in the time of Kingdom of Nanzhao in 10th century to be near the Dali Three Pagodas, so people call them "Chongsheng Temple and Three Pagodas". If you look at it from a distance, the pagodas are like three giant ballpoint pens breaking up the landscape of the never-ending mountains and emerald rice fields of Yunnan.
Where is it located?
Three Pagoda of Chongsheng Temple is located 1.5 kilometers northwest of Dali Old Town. It is situated at the east foot of Yingle Peak of the massive Cangshan Mountain and faced the west shore of Erhai Lake of ancient Dali. There are two rivers flowing through, one is Tao Stream in the east and Mei Stream in the north.
Distance from other Famous Attractions in Dali
About 2.6 kilometers from Cangshan Mountain

About 1.5 kilometers from Dali Old Town

About 6.6 kilometers from Erhai Lake

About 23.1 kilometers from Shuanglang
Highlights
Three Pagodas (三塔)
The Three Pagodas are made of one big pagoda and two small pagodas, forming a symmetric triangle. The Three Pagodas are made of brick and covered with white mud. The purpose of Three Pagodas, as so often in China, is to magically guard against natural disasters, particularly earthquakes and floods, as per the four-character inscription on the tall pagoda: "Forever Control Mountains and Rivers."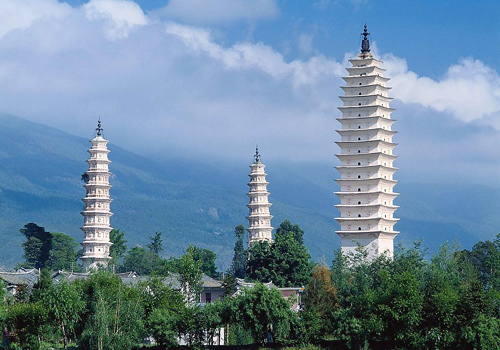 The main pagoda is known as Qianxun Pagoda which was first built during 823-840 AD by King Quan Fengyou of Nanzhao Kingdom. Qianxun Pagoda is square shaped and stands 69.4 meters high. The appearance of Qianxun Pagoda is much similar with the Small Wild Goose Pagoda in Xian, Songyue Temple Pagoda is Dengfeng and While Horse Temple Pagoda in Luoyang. Qianxun Pagoda has sixteen stories and each story has multiple tiers of upturned eaves and a carved shrine containing a while marble sitting Buhhda statue.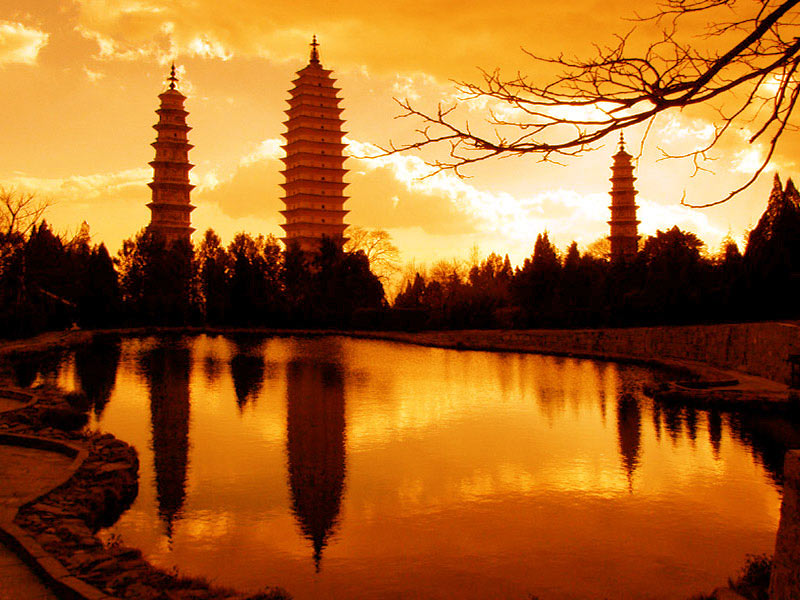 The other two sibling pagodas, at 42.19 meters high, stand to the northwest and southwest of Qianxun Pagoda and they are octagonal with ten multi-eave pent roofs. From their structure and shape, the two small pagodas should be built in the Dali Kingdom of the Song Dynasty style.

Chongsheng Temple (崇圣寺)
Chongsheng Temple complex is located behind the Three Pagodas which was the royal temple of Dali and one of t6he largest Buddhist centers in Southeast Asia. There are many sites to explore in front of Chongsheng Monastery and in the monastery.
Walk behind Three Pagodas you'll reach Dapeng Golden Wing Bird Square and see the Golden Wing Bird and explore the biggest bell in Yunnan - Nanzhao Jianji Bell which was built in 871 AD. Entering into the temple, you'll pass many Buddhist prayer halls, like Daxiongbao Hall, Medicine Hall, Caishen Hall, Maitreya Hall, Arhat Hall, Prayer Wheel, Thousan Buddha Hall, the Hall of Patriarch and finally reach Wanghai Tower where all the temple complex, the Three Pagodas, Cangshan Mountain and Erhai Lake can be seen.
Tours including Three pagodas