-Get to know Tiger Leaping Gorge
Tiger Leaping Gorge is located in the Northeast side of Zhongdian, about 105km away from the county. The river is squeezed by two snow mountains (Jade Dragon Snow Mountain and Haba Snow Mountain). And in the middle of the river, there is a giant rock. It is said that once a tiger wanted to jump across the river, and the rock help it to reach the opposite bank. Thus the rock named Tiger Leaping Rock. And the gorge named Tiger Leaping Gorge.
-3 Parts of Tiger Leaping Gorge
1.Upper Section - 9km away from the Tiger Leaping Gorge Town, is the easiest part among the 3 parts, people like to call it "Old people activity center". Most visitors come here just for taking a picture of the gorge
2.Middle Section - big gap of the river surface, "Mantianxing (满天星)" Reef Area is the most dangerous place in this part. This part is popular with foreign backpackers.

3.Lower Section - there is a giant gully with about 1km depth, this part is close to the exit of the gorge
-Ways to Travel in Tiger Leaping Gorge
a.By vehicle - fast and convenient, pick out the key places to visit
b.Hiking - either high path or gravel road can be experienced
-Location:

Tiger Leaping Gorge is located on the way from Lijiang toShangri-La. The gorge is formed by two famous snow mountains - Haba Snow Mountain on the north and Jade Dragon Snow Mountain on the south.
Another route to Tiger Leaping Gorge scenic area is the classic road called "Tiger Leaping Gorge High Path". This route go ahead along the gorge of Haba Snow Mountain. And then, you will meet a famous part named "28 Bends (28弯)". It was once hiked by foreign backpackers and not popular among China hikers. Nowadays, more and more Chinese hikers also come to this part gradually.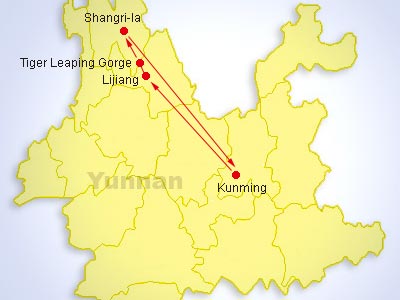 -Photography Tips:

► High Path - you can take photos with Haba Snow Mountain and Jade Dragon Snow Mountain
► Naxi Family G.H. (纳西雅阁) and Tea-horse G.H. (茶马客栈) - best places to take photos of Jade Dragon Snow Mountain
Note: along the route, some good viewing points will be charged RMB 3 - 5.
-Best Time to Hike:
Avoiding Jun to Sept because it is the rainfall season which is dangerous and unsafety of the hiking route.
Taking enough cool-proof clothes if you hike there after Oct.
Note: Tiger Leaping Gorge weather can take the one of Lijiang as reference. Lijiang Climate & Weather page for information you need.
-Packing List for Tiger Leaping Gorge Hiking:
1.Quick-dry light clothes
2.Jacket
3.Old antiskid shoe
4.A bottle of mineral water
5.Alpenstock
6.Torch
7.Small bag
8.Food such as chocolate, sliced dried beef etc.
Note: along the hiking route there are many guesthouse or small stores to supply and rest
-Transportation
Shuttle bus either from Lijiang or Shangri-La can arrival both Qiaotou (桥头) and Daju (大具). These two places can enter into Tiger Leaping Gorge. But from our experience, choose Qiaotou as the start point will be better because it is the entrance of the most classic hiking route.
Vehicle chartered: Most guesthouses in Lijiang can offer transfer service to Qiaotou, a little expensive, about CNY 20 (USD 3) higher than the shuttle bus per person. When finish the hiking route, you can also contact the guesthouse to arrange transfer service to Lijiang or Shangri-La.
-Three Important Guesthouses:
Tea Horse Guesthouse (茶马客栈)
It is a finish point of the first day hiking route. The condition is simple and crude.

Halfway (中途客栈)
If your physical condition is great. It can be the finish point of the first day hiking route.
Tea House to Halfway: hiking 2hrs
Tina's (中峡国际青年旅馆)
You are entering into Middle Tiger Leaping Gorge when you arrival there. A start point to get down to the Middle part.

-A Classic Tiger Leaping Gorge Hiking Route:
(Shuttle bus from Lijiang) - Qiaotou Town - Naxi Family G.H. - 28 Bends - Tea Horse G.H. - Halfway G.H. - Tina's G.H.- Teacher Zhang's Route - Back to Tina's G.H. - (Shuttle bus back to Lijiang or to Shangri-La)