Yi is a minority worshiping the tiger. Thus, from the 8th to the 15th day of the lunar January every year, Yi people, especially those from Shuangbai County, celebrate their Tiger Festival. The Tiger Festival is actually a sacrifice and is called "Luoma" in Yi language.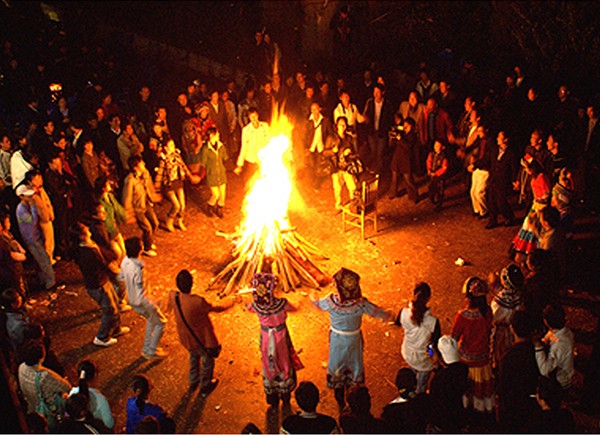 On that occasion, all the adult men from the whole village gather behind the village to offer sacrifice to the local god. The wizard chooses eight of them to perform the main ceremony of the festival. The eight selected men then dress up like tigers by putting on felt with tiger stripes and making-up on their faces, hands and feet also painted like tiger stripes. Under the lead of the black "Tiger King", they perform all kinds of dances reflecting the production, living, and procreation of the Yi people and go to each house at the village to help get rid of evils, which is called "Luoma Naihong" in Yi language.


It is said that the Yi people from Shuangbai County was once living in a dense forest and disturbed by snakes and wild animals. In order to prevent themselves from being hurt, they thought out a way to guard the village. They put on the peeled tiger skin and dance to show their tiger-like strength and valor, thus the Tiger Dance was created ever since. Today, it is even more vivid and animated with music and drums accompanying. There are eight "tigers" on the first day of the Tiger Festival. Then, there will be one more joining every day until it amounts to 15 "tigers" on the last day of the Festival. It is no more a way for driving away snakes and wild animals but showing the production and daily life of the Yi people.