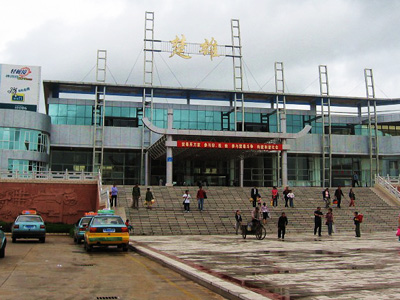 By Train

The train to Panzhihua;
The train to Kunming
Railway
Railway road runs across the city. No.986 express train passes the city every day at 12:30, with the fee of RMB 20 from Kunming. There are trains going to and from Yuanmon and Lufeng too.
By Bus
Highway
Chuxiong lies to the west of Kunming City and the transportation is quite convenient. National highway 320 connects Chuxiong with Kunming, with distance of 160 kilometers. Meanwhile, there are roads leading to almost every county in the area. The Kunming-Dali Expressway pass through Chuxiong. And it takes about 2 hours to go from Kunming to Chuxiong by bus. Every day there are more than about 100 regular buses going to and from Chuxiong in the Yunnan Province.
Kunming Long-distance Bus Station: 0871-3510617,3544574,3554502
Kunming Xiyuan Bus Station: 0871-8217331,8217335,8217336
Chuxiong East Bus Station: 0878-3017319
Chuxiong West Bus Station: 0878-3122326
Chuxiong South Bus Station: 0878-3123326
Chuxiong North Bus Station: 0878-3392319
Lufeng Bus Station: 0878-4123900 
Yuanmon Bus Station: 0878-8319918 
Yongren Bus Station: 0878-6712478
Yaoan Bus Station: 0878-5722686
Dayao Bus Station: 0878-6222899
Wuding Bus Company: 0878-8712898
Travel Tips:
The express ways from Chuxiong to Dali now employ the IC card system when charging the tolls. If you travel by car yourself, all you need to do is to get the card at the entrance of the express way and pay for it when you get out.
Local Transport
City transportation
In Chuxiong, taxi charges 5 Yuan within the city. If you are going out of the city, you may negotiate the fee with the driver.