When evening falls, city center is transformed into a festive ground for the people of Shangrila. Hand-in-hand, they form a circle and perform Tibetan folk dances to the notes of joyous music. The cheerful atmosphere will tempt you to join them in dance. As more people join in, the circle becomes larger and larger, until it finally breaks up into more circles. For a deeper experience of the local culture, you can visit local Tibetan families, who sometimes perform folk dance performances while always offering baked lamb and yak.
Main Shangri-La Entertainment EventsDukezong Old Town
Dukezong Old Town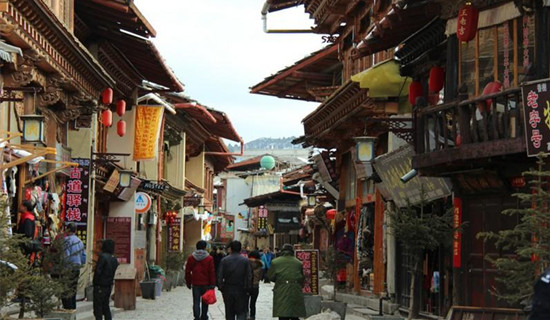 If you have an accommodation in the Dukezong ancient town of Shangri-La, you should take a stroll in the evening. Dukezong has another beautiful name, Moon Town, and offers sanctuary to all those seeking refuge from the hustle and bustle of city life. Perhaps, ambling along the stone-paved lanes with a full moon shining brightly in the sky above Shangri-La, you will feel the romance that first attracted James Hilton. If not, Pijiangpo Street features a number of bars and is the center of the little town 's nightlife.
Horse Racing Festival
The horse racing festival usually takes place in June, between the harvesting and planting season when the people are not so busy. This is the liveliest traditional Tibetan festival in Shangri-La. At this time of year, the flowers in Shangri-La seem to be competing for beauty. The pastures are lush and the animals grow strong and healthy on them. Tibetan people from thousands of villages come to the mountain to pitch tents and prepare for picnics. They also hold a huge race exemplifying horsemanship and speed and hearkening back to the ancient time when horses were a part of everyday life. Song and dance performances and traditional fairs are also held at this time. All these activities add to the exciting atmosphere of the festival.
Go Skiing!
Go skiing! A new ski resort has opened, about 15 minutes west of town on Shika Mountain. Shangri-la often host top sport events about ski.