Without a railway line with only a small regional airport within its boundaries, Shangri-La mainly relies on its roads as the main means of transportation. The Yunnan - Tibet Road, Sichuan - Tibet Road and Xikang - Tibet Road all pass through there, which really brings more convenience to the local land traffic.The gorvernment is going to build the railway from Lijiang to Shangri La. The railway will be finished from Dali to Lijiang in June 2009. Getting There
By Air
Diqing Shangri-La Airport (DIG)
Diqing Shangri-La Airport (DIG) is located about four kilometers (2.49 miles) southeast of Shangri-La County and serves the airlines traveling to Kunming, Lhasa, Guangzhou, and Shanghai. After arriving at the airport, you can take a taxi to Shangri-La County and the charge is about CNY15.
If there is no direct airline between your starting point and Shangri-La, you can reach the Kunming Wujiaba International Airport first and then transfer to Shangri-La by long-distance bus or by air.
Diqing Shangri-La Airport Inquiry: 0887-8229901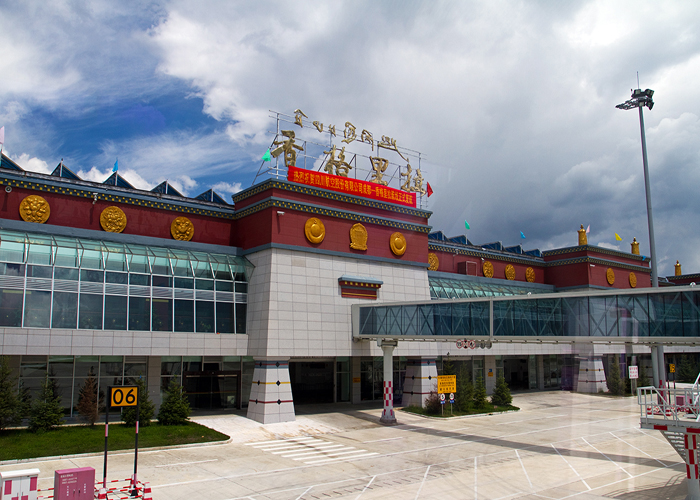 By Long-distance Bus
In Shangri-La, the coach bus is the most important vehicle. Visitors can get to Shangri-La by coach bus from Kunming, Dali, Lijiang, and Panzhihua. Here is information on buses to Shangri-La.
Kunming - Shangri-La
Departure station: Nanyao Passenger Transport Bus Station
Location: No.60 Beijing Road, Kunming
Departure time: 08:20
Ticket Price: CNY 171
Departure station: Kunming West Passenger Transport Bus Station
Location: under the overpass near the Kunming West Railway Station
Departure time: 09:00
Ticket Price: CNY171
Lijiang - Shangri-La
Departure station: Lijiang Transport Service Center Bus Station
Location: at Changshui Road to the southwest corner of Lijiang Old Town
Departure time: 07:30, 08:30, 09:00, 10:30, 12:00, 12:30, 13:30, 14:30, 15:00
Ticket price: CNY 35
Dali - Shangri-La
Departure station: Xiaguan North Bus Station
Location: The Tai'an Road (North)
Departure time: 06:20-11:30 (every 30 minutes); 06:30-09:30 (every an hour)
Ticket price: CNY 45; CNY 58 (for sleeper)
The Zhongdian Coach Bus Station is located in Changzheng Road (Middle), Shangri-La, and buses which serve the county operate from here. Here is the local bus information.
Shangri-La - Deqin
Departure time: There will be two coach buses during 07:30 to 08:00
Ticket price: CNY23
Shangri-La - Napa Lake
Ticket price: about CNY8
Shangri-La - Bitahai Lake
Ticket price: about CNY8 (get off at Shuangqiao and then walk or ride a horse to the Bitahai Lake)
Getting Around Shangri-la
By City-bus
In Shangri-La, city-buses are quite few. Apart from the several city-buses, there are some minibuses to the surrounding towns. In the tourism high season, the minibuses will open more routes to the surrounding attractions. Like the Bus No.3, it can take you to reach the Songzanlin Monastery.
Sights of Shangri-La are distant from each other and the regular buses may change sometimes. Therefore, please acquire clearly at the bus station before leaving, including if there are still any buses to you destination and the road condition.
By Taxi
The starting price is CNY5 in Shangri-La. The town seat is not big and taxis are not metered by taximeter. Within Shangri-La County the taxi fare is CNY5. But if you go out of the county, the cost will be higher. For example, the fare is about CNY15 from the town seat to Shangri-La's airport. A round trip to White Water Terraces is about CNY200.
By Chartered Vehicle
You can hire a car to the surrounding attractions. But according to the law, the International Driving License or the foreign Driving License can not be used in China. So you should hire a local driver when you rent a car. Here is some information about car rentals in Shangri-La. Remind that negotiation about the rental ahead of time.
Types of Vehicles Rental for a day
Santana CNY600
Jeep-like vehicle CNY900
Chinese-built six-seat minibus CNY500
Toyota two-seat minibus CNY750
An oldman on horseback
By Horse
In many places, the most beautiful scene of Shangri-La can not be admired without horses, especially the way to Bitahai Lake who hides in the valleys of snow mountain with an altitude of 4,000 meters (13,123 feet). Horses are provided by local Tibetans. Some attractions can not be reached by vehicles easily so it is easier to do so on horseback. For instance, Shangri-La is 32 kilometers (19.88 miles) from Bitahai Lake but the bus can only go as far as Shuangqiao. From there you can hire a horse or walk to the lake. CNY30-CNY60 will be charged for single trip to the lake per person.
Tip
In fact, most of them are mules because they have stronger legs than houses. Take care while horse-riding. You had better ride a horse taken by a stableman, let alone run in the horseback. Get off the horseback if the road is dangerous or in slopes.