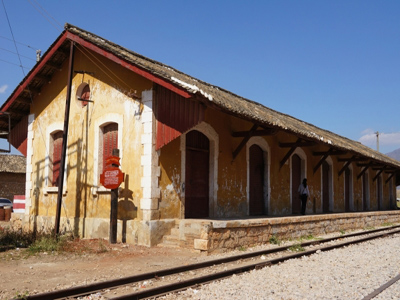 Railway

The Dianyue Railway (Kunming-Henei) is a main railway in Honghe Prefecture. It was built by Frenchmen in 1908. It's one of the only two narrow-gauge railways in the worle. It's also the only international railway in Yunnan at present. It connects Yunnan with some countries in Southeast Asia. The train departs from the Kunming Northern Station and reaches Henei in Vietnam, via Kuaiyuan, Mengzi and Hekou. It's 460 kilometers from Kuming to Hekou. The train runs the course in 17 hours. Howerever, 10 hours is enough to runs it by bus. One wonder in"Eighteen wonders in Yunnan" is that a railway leads abroad instead of home. The railway referred to is the narrow-gauge railway in Yunnan.
In addition, there is another railway in Honghe Prefecture. It's the Mengbao Railway (Mengzi-Baoxiu). It starts from the Bisezhai Railway Staion which is on the Kunhe Railway and ends in the Baoxiu Rialway station, via Mengzi, Jieji, Jianshui and Shiping. The overall length of the railway is 142 kilometers. If you take the train, you can visit one of the earliest railway stations in modern Chinese history- the Bisezhai Railway Station by the way.
The Inquiring Number of the Kaiyuan Railway Station: 0873-7125483
The Number of the Passenger Transport Section of Kuaiyuan Railway: 0873-7125793
The Inquiring Number of the Hekou Railway Station: 0873-3422855
The Inquiring Number of the Jianshui Railway Station: 0873-7652284
Tips:
1. The railway from Kunming to Hekou passes Honghe. Howerver, there are too many stops in the railway. The whole journey probably needs 17 hours. It only takes 10 hours to finish the distance by bus. Therefore, taking the train wastes too much time. It's inadvisable.
2. The trains moving on the Kunhe Railway and the Mengbao Railway are Train 313/4(North Kunming-Hekou), Train 311/2(North Kunming-Kaiyuan), Train 501/2(Kunming-Mengzi) and Train 681/2 (Kaiyuan-Hekou).
Bus
Highway
Long-distance coaches shuttle back and forth across the whole province. The coaches which are bound for Honghe are centered largely in the Yunnan Tourist Bus Station (it's located in No.663, Minghang Road, Shangguan).
The Inquiring Number of the Gejiu Long-Distance Bus Station: 0873-2222091
Tip: If you want to go to Kunming from Gejiu, you can take a bus at the Gejiu Bus Station. The price of taking the common air-conditioned bus is 58.5 Yuan per person. Eviko is 48.5 Yuan. Santana is 70 Yuan. You can take a bus here to other places in the province or in the prefecture.