Kunming, reputedly "Spring City", is endowed with time honored history, favorable climate as well as profound culture. The magnificent Stone Forest, fragrant flowers, amazing Dianchi Lake, grand Daguan Pavilion and featured Ethnic Village are what intrigues tourists to pay a visit. Apart from these renowned attractions, the profound Kunming culture also has much to offer to visitors. The characteristic culture in Kunming ranges from Dian Opera, eighteen oddities of Yunnan, Kunming tune, wax printing, which would be a great feast to the eyes' of visitors.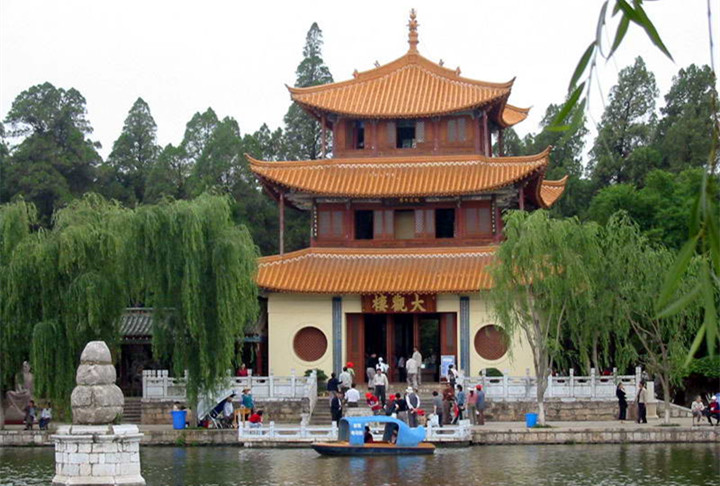 Eighteen Oddities in Yunnan

As is known to all, Yunnan is the most multi-ethnic province in China. Yi, Bai, Zhuang, Dai and Naxi, Tibetan, Yao and other ethnic minorities are inhabited in Yunnan, which accounts for one thirds of population Yunnan. The featured geography, special climate and colorful ethnic custom endow Yunnan many oddities, among which the following eighteens are the best-known.
Eggs are tied up with herbs and sold in rope-like cluster. Bamboo hats are used as pot cover. Mosquitoes are so large that three ones could make a dish. Bamboo is used to make water pipes for smoking. Zanba, a local specialty made of rice, is literally called Er'kuai. People wear the same clothes all year round because of the favorable climate. Young girls are called "Old Lady". Automobiles move faster than trains. Toes are exposed all year round. It rains here but suns there, because the weather is different from that in the area a few kilometers far. Girls wear flowers in four seasons. Children are raised by men- women in Yunnan are diligent and hard-working, and thus men stay at home to look after their children. Grannies climb mountains faster than monkeys. Stone caves are as beautiful as fairyland. Cross bridge rice noodles, a specialty in Yunnan, is loved by everyone. Flowers blossom all year round. Green vegetable is called "bitter vegetable". Girls carry tobacco bags. These oddities are brimming with the local folk custom of Yunnan and offer visitors an authentic Yunnan.
Dian Opera
Dian Opera is a kind of local opera in Yunnan Province, which integrates various traditional Chinese operas introduced into Yunan during Qianlong reign in Qing Dynasty. Dian opera is of Yunnan features, which was born in 1821 and is prevalent among Yunnan, Sichuan and Guizhou regions. Dian opera is good at characterization and heroes in the opera are vividly-portrayed. Dian opera is featured with exquisite sensibility-presentation and lively language, which is brimming with strong folk ballad flavor. Although originating from Shaanxi opera, Anhui opera and Han opera, Dian opera differentiates from them after years of evolution and is of its own features, which integrates the dialects, local custom and folk songs of Yunnan together. The operatic tune of Dian opera is resounding, mellow and cheerful. Dian opera includes three kinds of tunes, namely, Stringed tune, Xiangyang tune and Huqin tune. Instrument for Xiangyang tune and Huqin tune is both dominated by Chinese violin, while stringed tune by musical-saw. Apart from those dominated ones, there are also other instruments accompanied, such as Erhu, Suona horn, flute and the likes. During Guangxu reign in Qing Dynasty, Dian opera was widely spread among counties of Yunnan province. By the time of Republic of China, it had been pervaded in the whole province. After the people's republic of China is founded, the Dian opera has created many plays reflecting the daily life of such ethnic minorities as Bai, Dai, and Hani people of China, which are well-reviewed by the public. Special attention is paid to singing, dancing and rhythm in Dian opera, which is comprehensive art of China.
Kunming Tune
Kunming tune is a kind of folk art on singing. It has many forms, folk song, ditty and ballad for example, which is prevalent among the suburb of Kunming City. No make-up and special place is required in Kunming Tune. Kunming is multi-ethnic inhabited and different ethnic minorities have different singing styles. Tune of Han people in Yunnan has diversified forms. Forms of Han tune generally include solo, duet and antiphony between men and women etc., each of which are sung while working in the field. The theme of the tune is mainly focused on wisdom, love and motherland-eulogizing. To Sani people, a branch of Yi ethnic minority, the tune is usually sung on festival, social contact, love-expressing as well as working. After People's Republic of China is founded, tunes of Yunnan is greatly developed, which is performed in accompany with musical instruments. The most reputed Yunnan tunes in China include "Singing Folk Songs", "Horse Driving Tunes", "Rippling Brook", and "Flooding Rivers" and the likes.
Wax Printing
Wax printing is a traditional skill prevalent among ethnic minorities in Yunnan province. It is featured with distinctive patterns, simplified style and exquisite designs. The procedure for wax printing is quite sophisticated. Dip the knife into the melted wax and draw delicate patterns on a piece of white cloth, then dye the cloth blue. After the cloth is already dyed, take the wax away, and the exquisite patterns drawn before would be revealed clearly on the cloth. Moreover, the wax layer cracks naturally while being dyed, which creates the special ripples on the cloth, making the patterns more vivid and life-like. With its unequalled features, varied patterns, elegant colors and unique style, wax printing is widely applied in clothes-producing and life- necessity-making.
Wax printing prevails in Yunnan, particularly prevalent among Miao and Bai ethnic minorities. Miao People has the unparalleled weaving skills passed down from generation to generation. Cloth made by Miao People is tender, tightly-woven, high-quality and durable, which enjoys great reputation in history. With the unbeatable weaving skill, the wax-printed works of Miao people are more marvelous and enchanting. Wax printing in Yunnan usually takes local scenery and folk custom as its main material, in which such patterns as peacoak, elepant, camellia and cuckoo are often applied. Wax printing in Yunan, as a folk art, has been produced as tourist souvenir and export commodity, which contributes a lot to the development of Yuannan economy.