By plane:

Kunming Wujiaba International Airport has managed to connect the city with other places within Yunnan, in China, and even around the world. Flights are available to most major Chinese cities such as Beijing (3 hours), Shanghai (2.5 hours), Chengdu (1 hour), Guangzhou (1 hour), Guilin (1.25 hours) as well as international destinations such as Hong Kong, Bangkok, Singapore and Kuala Lumpur. Flights to regional yunnan tourist destinations ( Baoshan, Jinghong, Lijiang, Manshi, Xiaguan and Zhaotong ) are generally available.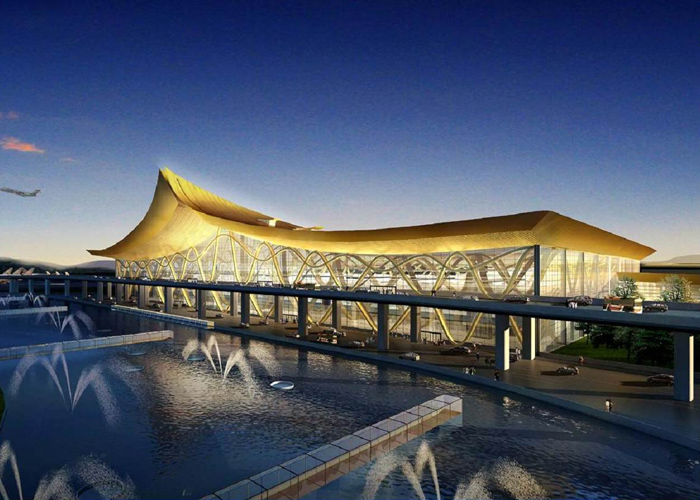 The airport is 5 km south of the city center (Dongfeng Square). To get to the airport by taxi usually costs about RMB15 and takes 20 minutes. Bus No. 52 runs from Daguan Tower via the main railway station to the airport. Also, bus No.67 runs by the north railway station via the main railway station. Lastly, bus No.78 runs between the airport and the north railway station via the municipal government building. Most of the above buses are available from 6am to 10pm.

There is no money exchange service at the airport, but there are ATMs that accept the Bank of China's Changcheng card and most international cards. However, there is a Bank of China branch opposite the the arrival gate with a credit card service (3% processing fee), traveler's check exchange (0.75% fee) and other money exchange services.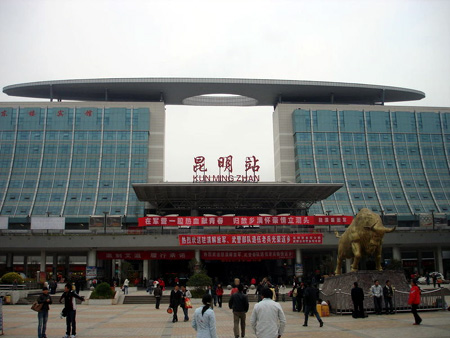 By train:

There are two railway stations in Kunming.
The main railway station (also known as Nanyao station) is located about 4 km from the city, a RMB10 taxi ride that takes about 15 minutes. Apart from bus lines that link the railway station with the airport, bus No.68 runs to the Expo '99 Garden and bus No.80 runs to the Xiyuan bus station. Most hotels in Kunming have rail ticket booking services. The main railway ticket office is at 19 Kubshi Lu not far from the Nanjing Hotel. There, tickets can be arranged from 8am-5:30pm (with a long lunch break).


yunnan tourist trains:

Kunming to Shilin (Number 202): 8:28am-9:55am
Returning (Number 201): 3:20-4:47
(RMB20 for a one-way ticket and RMB30 for a roundtrip ticket)

Kunming to Dali (Number 213): 10:10pm-6:45am
Returning (214): 7:42am-10:50pm
(RMB50 for a hard seat ticket and 85 for a hard sleeper middle bunk)

Kunming to Yuxi (Train 208): 5:48pm-7:58pm
Returning (Train 207): 10:54am-8:31am

The Northern Railway station might be useful for those seeking a further trip to Vietnam. Be careful as it is impossible to get a Vietnamese visa in Kunming, a visa has to be arranged beforehand in Guangzhou or Beijing or other parts of the world. The railway station is 3 km from the city to the north. A taxi will get you there for RMB10 in 15 minutes. Bus No.25 and bus No.64 both run to the northern station (and the main Nanyao rail station as well) and bus No.78 runs between the northern rail station and the airport.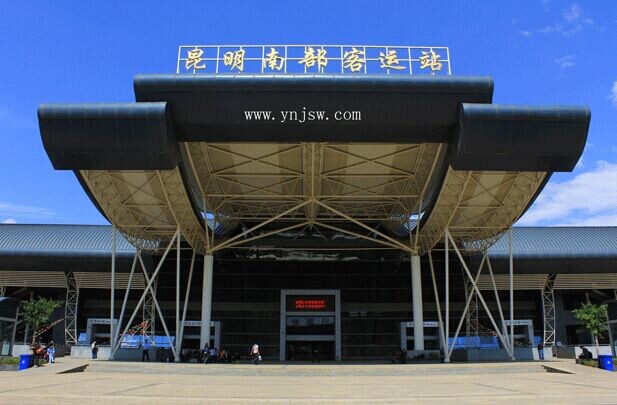 By bus:


There are four major long distance bus stations in Kunming:
The South station is directly opposite the Nanyao railway station on Beijing Lu. This is Kunming's major bus station and has bus routes to most regional destinations. There are two classes of bus generally available here: the cheaper Regular and the faster and more luxurious Gaokuai (literally "Highway Express"). The station is well managed and ideal for all manner of tourists.

The Railway station square bus station has buses for most destinations in Kunming, although it is less organized with more private buses that have less fixed schedules. Most of the buses here are normal coaches and are cheaper than Gaokuai buses. Buses to Shilin and Jiuxiang start here, but the best way to reach these places is by train, as the buses on this route tend to pick up as many tourists as possible along the way and the supposed 2 hour drive invariably ends up being at least 4 hours.

The Western station used to be the second largest bus station in Kunming, but is currently the third largest after the Huangtupo Station. Buses run to most regional destinations from here. The station is well managed.

Huangtupo station is growing bigger every day , but since this station is far from the city and most bus routes are not to tourist destinations, (with only two sleepers to Zhongdian departing at 3 PM and 7 PM, probably stopping in Lijiang and Dali), it is not widely used by tourists.

City Transport:

The fare for public buses is RMB1 throughout Kunming. Most of the buses in the city start at 6am and end at 10:30pm. Passengers should stand close to the door if they want to get off, otherwise, the driver may simply not stop. Some buses also have an English recording that calls out the names of stops.
Taxi fares in Kunming are RMB8 for the first 3 km and RMB1.8 for each additional km (RMB9.6 and RMB2.7 after 10 PM). For a trip longer than 10 km, the part after 10km is charged RMB2.7/km.
Bicycle rental is another option in Kunming. The Camellia Hotel (RMB2 per hour and RMB10 for a day) is a good choice. Also, the Friendship Travel Agency in the Kunming Hotel rents, but for a slightly higher cost. A third choice is the Kunhu Hotel on Beijing Lu near the railway station charging the same price as the Camellia.