Keywords: Photograph, Red Soil
Location: Huashitou Country, Dongchuan District, Kunming,Yunnan Province, China
Altitude: about 1800 to 2600 meters
About Dongchuan Red Soil Scenic Area:
Dongchuan Red Soil is located in Huashitou Country of Red Land Town in Dongchuan District, about 40 kilometers southwest of Kunming City. The Red Soil here spans hundreds of miles, which is the most typical, lumped and featured red land in Yunnan. Due to the warm and humid climate, the iron in the earth has been oxidized and deposit year after year. Every September to December, the bright red soil with various crops, blue sky, white cloud and unpredictable light form the spectacular scenery hence the name " God's Palette".
In the mid 1990s, the first Chinese photographers came to discover the Wumeng's scenery. The first came and scooped award-winning photos, but kept their location a closely guarded secret. But slowly the details leaked and now more and more photographers are making their arduous trip into the arid mountains. The brilliant red soil, the yellow buckwheats and the dramatic skies make the region around Dongchuan a paradise for photographers.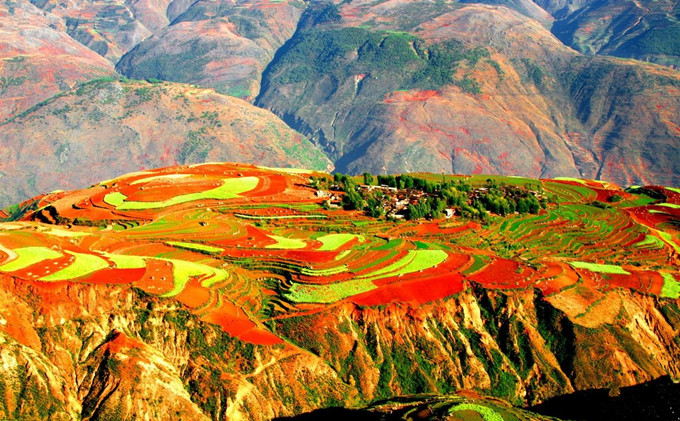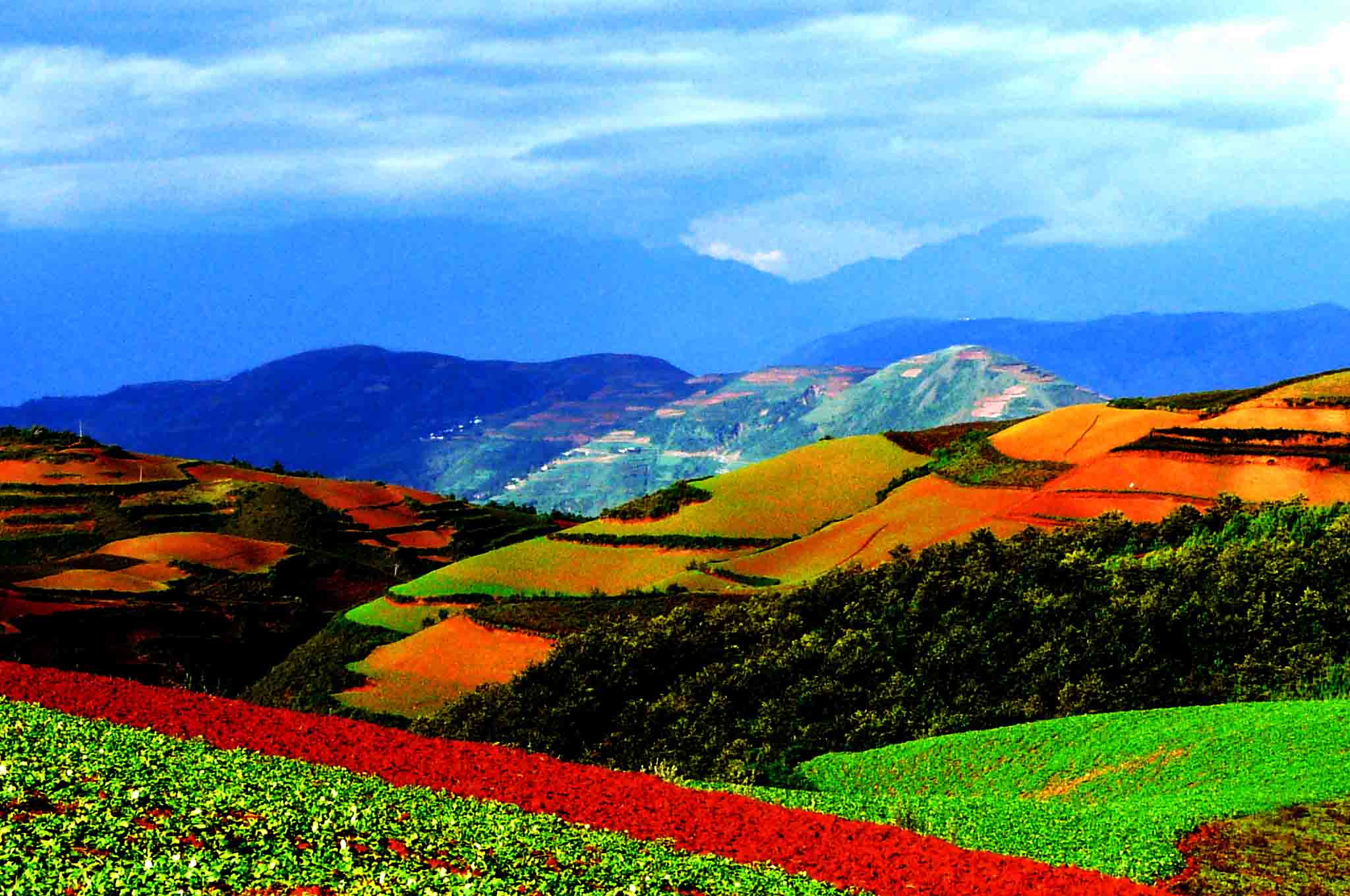 Dongchuan Red Soil
Best Time to Visit:
The most beautiful time to visit and shoot Dongchuan Red Land is from May to June and September to December, and the snow scene in March is also stunning. This land will show different beauties to tourists in different seasons.

May(four colors): red soil, golden yellow wheat, highland barley, green potato plants.
September(four colors): red soil, golden yellow buckwheat, white rape flower grown in winter, green potato plants.
November(three colors): red soil, golden yellow rape flower, green plants.
March: Most March of Dongchuan will snow. The red soil with sunshine after snow is pretty beautiful.
Main Attractions in Dongchuan Red Soil
Center on Huashitou Village, the most wonderful scenery in Dongchuan Red Soil concentrate on Seven Color Slope(Qicaipo), Embroidery Garden(Jinxiu Yuan), Sunset Valley(Luoxiagou), Hit Horse Hole(Damakan), River Snail Bay(Luosiwan), Music Hollow(Yuepu'ao) and Tiled House Bridge(Wafang Liangzi), etc.
Hit Horse Hole (Damakan, 打马坎)
'Damakan' is a village name of Dongchuan. A large spread of red fields are in the arms of continuous mountains at the skyline. Standing on the highway, you can overlook the red land. Due to its topographical advantage, Damakan is the best site to shoot the sunrise and also a good place to appreciate sea of cloud.
•The time of sunrise and sunset may change in accordance with the season so you had better ask for the local people before.
•The best time for photograph is the sunrise in April to November or the first to third day after rain.
Seven Color Slope (Qicaipo,七彩坡)
Qicaipo is the best site to shoot the grand sight. Located in the high point, different patches in the slope may show different color in different view and season. Travels will be shocked by the wonderful color here.
Embroidery Garden(Jinxiu Yuan,锦绣园)
Walking half an hour from Huashitou Village, you can arrive at Jinxiu Yuan, which is a large concave ground. A sightseeing road with wide vision is built along the mountainside. It is featured by the rolling hills sight and delicate landscape.
•The best time for photograph is the sunset in April to December or the third day after rain.
•It is located on the way from Huashitou Village to Qicaipo.
River Snail Bay(Luosiwan,螺蛳湾)
The colorful with snail-shaped meanders hence the name. It is located in 2 kilometers southeast of Wafang Liangzi. As for photographer, it is a leisurely site to shoot the sunrise and sunset, In addition, the folk residences are also special highlight in the Red Soil.
Sunset Valley(Luoxiagou,落霞沟)
Surrounded by mountains, Luoxiagou looks like a sunken depression from a distance.Traditional local villages adorn the colorful fields.People say there are no repeated sceneries in Luoxiagou in the 365 days. When you arrive at Luoxiagou and look down from there, wisps of smoke rise continuously from the village chimneys; fields and village have formed a perfect picture. Best time for shooting is from 16:30 to 17:30. During this time, sun will rise from the east mountain of Luoxiagou, and it's most possible to appear torchlight like sunlight.

Music Hollow(Yuepu'ao,乐谱凹)
Yuepuao is a village located in the south of Huashitou Village, very close to it. The scenery in Yuepuao is mainly made of colored fields, village and small forests. There is a beauty in the lines of the fields, just like the musical staff. The sunlight is good in before dusk, with luck, you can shoot the great sunset glow here.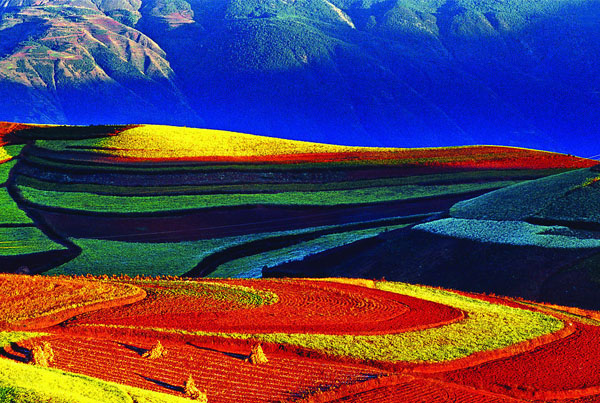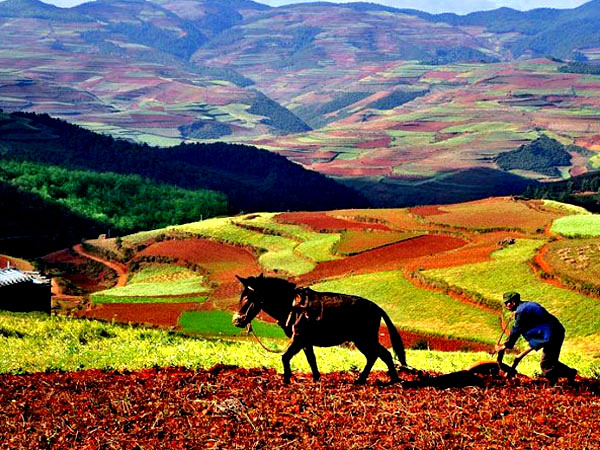 Wonderful Color of Dongchuan Red Soil
Accommodation
There are a few guesthouses spreaded in 109 and 110. Most of them are three-stored house up to clean and sanitary standard. The price for one night ranges CNY 20 to 100 and the room usually equips solar water heater and electric blanket. Usually you eat where you stay, about CNY 20 per person.
Others Scenic Spots in Kunming:
Jiaozi Snow Mountain is well-known as the First Mountain in the middle of Yunnan. Looking from a long distance, the snow mountain looks like a sedan chair placed in the millions of flowers, hence the name Sedan Chair Snow Mountain. As the best snow view in the low latitude of Southeast Asia, Mt. Jiaozi, rising 4223m above sea level, is a beautiful scenic spot.
‣‣‣ Dongchuan Red Land Travel Guide
‣‣‣ Tours Including Dongchuan Red Land
• 2 Days Dongchuan Red Land Flowers Tour(June,July,August)

• 2 Days Kunming Dongchuan Red Soil Photography Tour

• 6 Days Dongchuan Red Soil and Jiaozi Snow Mountain Trekking Photography Tour
Admission Fee:¥0

Opening Hours: All Day Long

Attraction Transportation:
Kunming-Huagou:
Kunming North Bus Station:Fazhe-bound buses departing at 8:00 & 14:00 daily pass by Huashitou Village. Just try to let the driver know that you want to get off at Huagou(CNY 25). Bear in mind that the bus moves on extremely slowly and it takes 5~6 hours to arrive, as there are a few chaotic local markets along the road.
Kunming-Dongchuan-Huagou:
Kunming Eastern Bus Station(Dongjv Qichezhan): frequent buses run to Dongchuan County from 6:30am to 10pm, CNY 28-38 (depending on bus type) / 3.5hrs; There are only 2 buses from Dongchuan County to Red Soil at 8:30 & 12:50:00, CNY 15 / 1.5hrs. Charter a van if you missed the scheduled buses.
Kunming-Huagou:
Chartering a vehicle from Kunming to Huagou costs around CNY 250 one way.
Getting Around:
trek on foot to the few scenic spots around 109, like Jinxiu Yuan,Qicai Po & Yuepu Ao, but for more spectacular view points farthur, like Dama Kan and Luoxia Gou, it's necessary to rent a car or minivan (Y200-250 per day).
Attraction Travel Tips:
Photograph:
•Photographers had better stay two nights in the Red Soil because of the changeable weather there. You can get to Damakan in the morning and the rest time get to Qicaipo, Jinxiu Yuan, Yuepu'ao. Then get to the Luoxiagou at dusk to shoot the sunset.
•You shouldn't step into the fields, as you might be asked for money by the locals. If you want to take some photos in the fields, ask your guide to discuss permission and a price with the locals first.
Shower:
The hostels here usually have solar water heater so that if too many visitors come, the hot water may in short supply.
Clothes:
The scenic area is located in the mountainous area so that the temperature differs between day and night. Keep warm against the cold. What's more, due to its highland locality, please pay attention to the natural sunshine and be protect from the sunburn.