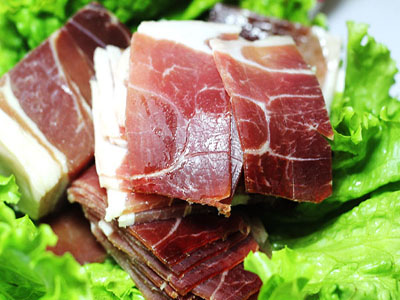 Xuanwei Ham
Xuanwei Ham is reputed as one of the three most famous types of hams in China, the other types being Jinhua Ham from Zhejiang and Rugao Ham from jiangsu. It is named after its producing place—Xuan­wei of Yunnan Province and is also called Yunnan Han Ham. A local pig called Wumeng Pig is selected as the material, and generally it is pre­served during the time from me first frost to the spring of the next year. It should experience half a year' s natural fermenting after being pre­served. It features small bones, thin skins, rich flesh, tender meat, fragrant aroma, and beautiful color. It can be kept for a long time.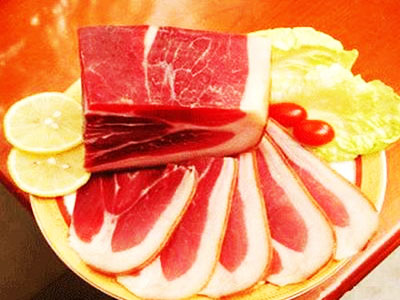 The production and sale of Xuanwei Ham has lasted for hundreds of years. In 1909 Pu Zaiting, a folk entrepreneur, started the ham pro­cessing industry, making tinned ham. The product was sold to foreign countries. In 1915, Xuanwei ham won the gold medal in Panama World Fair and was the first of Yunnan's famous local products enter­ing the world market. In 1923, in the National Food Exhibition held in Guangzhou, Mr. Sun Yat - sen wrote an inscription for Xuanwei Ham, saying "Yin He Shi De". Ever since then, Xuanwei Ham enjoyed a great popularity around the world, and been sold to Hong Kong, Macao (two regions of China) , and exported to Japan, Southeast Asian coun­tries and some European countries.

Later the factory which produced tins with Xuanwei Ham as the material was named "Dehe Tin Factory after Dr. Sun Yat - sen' s inscription. Now, the packing and produc­tion skills have been greatly improved with varieties of packing. There is tinned ham and bagged ham with the material carefully chosen and the flavor well - preserved, thus enjoying greater popularity among con­sumers.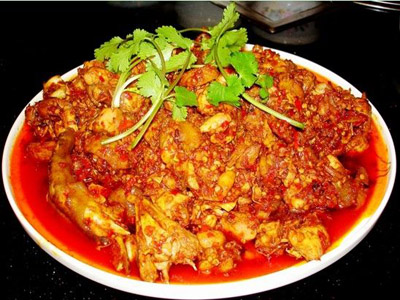 The prepared ducks in Luliang County

It has the special features only, the color is white and it is transparent, the salt flavor is just right, the meat quality is delicate, the flavor is fresh and beautiful, the nourishment is abundant, it is a food that is subjected to people's fancy. Every time round joyful festivals, the people usually use the red paper packing to donate friends and relatives. Since 1959, it was sold far in the other parts of country, possessed the great reputation.
Qujing Pickled Chives Flower
This local product was first produced in the Guanxu Year of the Qing Dynasty. Main ingredients include chives flower, salt, wine, chili, and brown sugar.