The widely spreading Buddhism in Yunnan includes three divisions, namely Hynayana (Small Wheel or Southern Buddhism), Mahayana (Big Wheel or Chinese Buddhism) and Tibetan Buddhism (Lamaism) among which, in China, Hynayana can only be found in Yunnan Province.
Hynayana Buddhism mainly spreads in Xishuangbanna, De'hong, Simao, Lincang, and Baoshan prefectures. The Dai, Bulang, De'ang, Achang people and some Was are the main followers; the monks and priests in temples also take the responsibility to teach minority cultures. Especially, Dai boys, when reaching a certain age, are required to spend a period of monastic life in the temples as novices from seven days to several months; after that, most of them will return home, and the rest will continue their self-cultivation and become members of religious service staff. Significant pagodas and temples for Hynayana are: Manfeilong Pagodas in Jinghong, Jingzhen Octagonal Pagoda in Menghai, Guangyun Myanmar Temple in Guangyun, Copper Buddha Hall of Yuangtong Temple in Kunming, Mange Temple in Jinghong, Foguang Temple in Mangshi, Jiele Golden Pagoda in Ruili etc.
Mahayana is popular mainly in Kunming, Dali, Baoshan, Yuxi, Honghe, Chuxiong, Dongchuan, Qujing, Lincang and Zhaotong areas, the followers are Han, Bai, Naxi, Yi and Lahu people. Famous temples and pagodas include Yuantong Temple, Bamboo Temple and Huating Temple in Kunming, Chongsheng Temple, Bronze Tile Temple in Dali, the Three Pagodas of Chongsheng Temple in Dali, Jingang Pagoda in Kunming's Guandu, Shizhongshan Buddhist Grottoes in Jianchuan etc.
Tibetan Buddhism is mainly practiced by Naxi, Pumi, and some Lisu people in Lijing, Diqing and Nujiang Prefectures. Famous temples are Gedan Songzanlin (Yellow Hat Sect) Monastery, Dabao Monastery in Shangri-la, Yufeng Monastery in Lijiang etc.
With a history of more than 1,200 years, Yuantong Temple is the grandest and most important Buddhist temple in Yunnan Province. King Yi Mouxun of the Nanzhao Kingdom built the temple in the late eighth century; and the restorations from the Qing Dynasty onward have not changed the unique mixed architectural style of the Yuan and Ming Dynasties. Unlike all other Buddhist temples, you enter Yuantong Temple from above and descend along a gently sloping garden path; a memorial archway with four Chinese characters is standing halfway. The temple complex is built around Yuantong Hall, which is set with a very large living pond in the center. A delicate stone bridge which has an elegant octagonal pavilion stands in the center and connects the hall and the temple entrance. The pavilion is connected to the rest of the complex by bridges and walkways. Sakyamuni, Amitabha and the Medicine Buddha, all Yuan Dynasty statues, are found in the major hall. The surrounding 500 Buddhist Arhats that are carved in the walls are noted for their perfect proportions and lively appearances; also in this temple hall are two ten-meter-high pillars from the Ming Dynasty that are each engraved with a dragon trying to extend their bodies and claws into the air. Outside, on each side of the major hall, there are stone staircases carved out of the mountainside and wind their way to the top of the hill. There are ancient inscriptions along the way and various stone artworks considered the most important historical relics in Kunming. From the top of the stairs, you are presented with a terrific panoramic view of the entire complex. In 1982, Thai Buddhists sent a 3.5-meter-high copper statue of Sakyamuni, which is now placed in the Copper Buddha Hall combining Chinese and Tai styles. Surrounding the living pond are a series of halls where you will find old ladies praying, people sitting and chatting, ongoing classes in Buddhist scriptures, a magnificent calligraphy studio, an exhibit of temple photographs, a temple shop, a restaurant, and so on.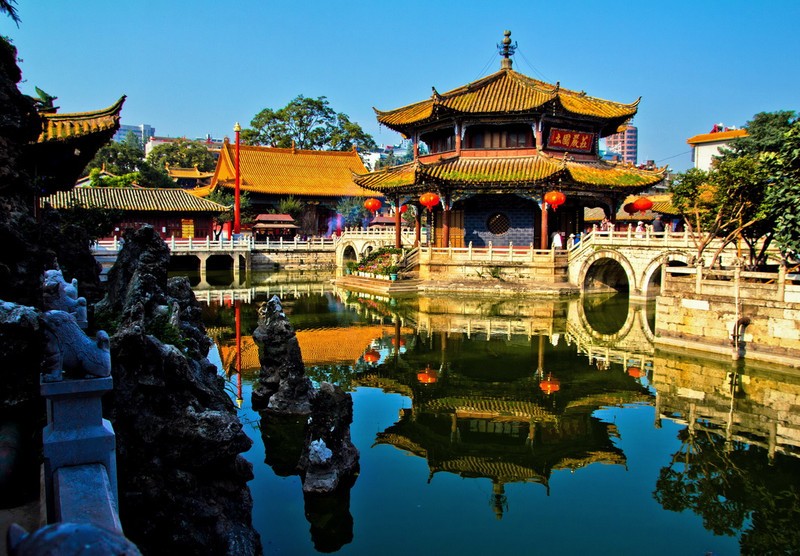 Yuantong Temple in Kunming
Yuantong Temple is a real working or active temple too; Buddhists from many different countries come here on pilgrimages to pay homage. There are special Buddhist services twice a month, and the Buddhist Association of Yunnan Province is also located here, making it a center of Buddhism in Yunnan.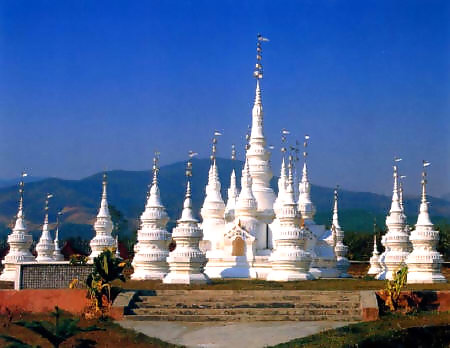 Manfeilong White Pagoda in Xishuangbanna

According to some historical documents, Hanayana was introduced to Xinshuangbanna of Yunnan from Myanmar in the Sui Dynasty (6th century). Most of Dai people in Xishuangbanna believe in Hynayana, so Buddhist temples and pagodas can be seen in every Dai village. The Manfeilong pagoda is one of the Hynayana pagodas; in the Dai language, Manfeilong means a prosperous village in the dense banyan trees; it stands like bamboo shoots, so it's also named "Bamboo-shoot pagoda"; the pagoda consists of nine small gourd-shaped pagodas on an octagonal base; the south of the pagoda is the place where the monks take rests and have meetings; there is huge footprint on the rock to the south of the pagoda too, for which it's said that Sakyamuni, the founder of Buddhism, left his footprint to remind Dai people there of building a pagoda; there is also a spring nearby, a legend goes that it was also left by Sakyamuni when he came to give lectures; people believe that the water from the spring can cure diseases. The sacred footprint left by Sakyamuni makes the Manfeilong Pagoda famous around Southeast Asia.