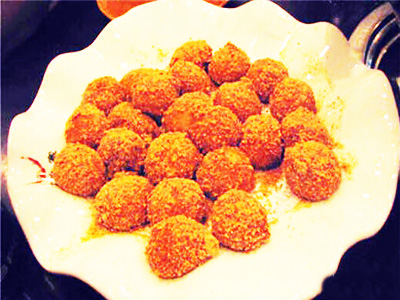 Horse Rolling Around of Yunzhou
It is a sort of very tasty, sweet and mild local delicacy of Yun County made of sticky rice. In the winter time, top sticky rice was selected and ground into rice flour. The flour is later mixed with fresh water and made into small balls. After being cooked in boiling water for a bout 10 minutes, the ready balls are put and rolled in a bowl with sesame, powder of stir fried soybean and sugar. The special delicacy got its strange funny name because of its special preparation process and is popular for its sweetness and fragrance.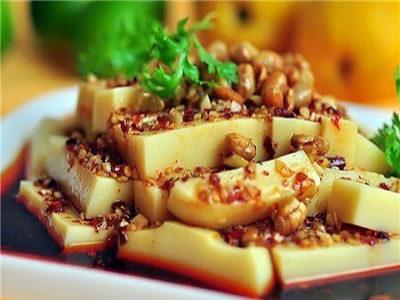 Bean Powder Rice Noodle

This special local snack of Lincang uses good quality rice noodle and pea powder as major material and is seasoned with sesame, ginger, chili oil, garlic mash and sauce etc.
Boiler Chicken
The boiler chicken began popular as early as the reign of Emperor Qianlong of the Qing Dynasty in the south of Yunnan. Using such herb as Sanqi, tuber of elevated gastrodia, coriander and congcao etc. the dish is particularly famous for its great restorative power.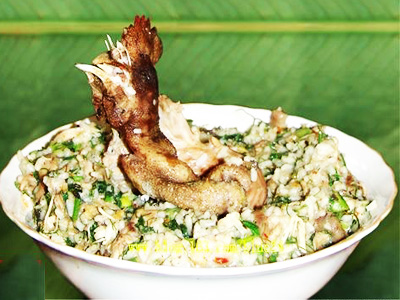 Chicken Cooked with Pickled Bamboo Shoot

Being a typical Thai cuisine, its cooking method is like this: stir fry the pickled bamboo shoot and chicken separately first until they are both ready to eat. Later put them together and add such seasonings as green chili, hot pepper, shallot and ginger to them. Stir fry the dish again and it is finally made. The same as the Pickled Bull Tendon, this spicy dish is very appetite stimulating.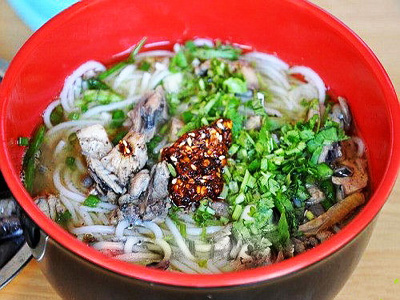 Chicken Mashed Rice

Called Moniyaburao in Wa dialect, this special rice food is a great Wa dish for welcoming distinguished guests. Viewed both as a dish and a sort of staple food, it is softer than ordinary rice and drier than porridge. Two preparation methods – Hand Tearing Chicken Mashed Rice Method and Knife Chopping Chicken Mashed Rice Method are often applied. The two cooking method are very unique and have much in common. The newly harvested rice is stewed in a pot together with tender black bone chicken, many seasonings and vegetables like fennel leaves, green pepper, hot chili, Ahwa cilantro, shallot, garlic and mint are added to the rice. The ready mashed rice is bright in look and soft, sticky and smooth in taste .
Chicken Rice Noodle
Yunzhou rice noodle is the most characteristic local snack food of the Yun County. The slim, white and elastic rice noodle is cooked with black bone chicken, hot pepper oil, coriander and ginger etc. The rice noodle is famous for its pleasing scent and wonderful taste.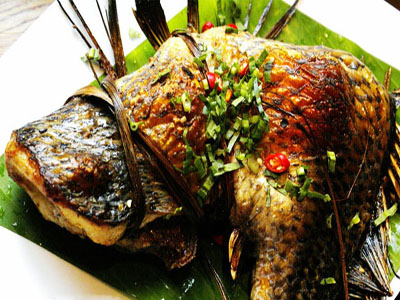 Fragrant Straw Grilled Fish

It is a famous Thai dish for the crisp and tender grilled fish meat Cooking Method:Open a fish from its back and remove the scales and bowels, put such seasoning as coriander, shallot, ginger, green pepper and salt etc in the belly of the fish. Tie the fish with a sort of fragrant straw to avoid the release of the seasonings and spread some lard on the fish. The fish will be ready after it has been grilled above the charcoal fire for a few minutes.
Grilled Fish in Banana Leaves Package
It is a traditional Bulang dish known for its freshness and good smell. A fresh fish is opened and stuffed with such seasonings as hot pepper, ginger, cilantro, Bunge prickly ash and salt etc. Then the fish is carefully packed with a huge banana leaf and buried in the burning charcoal ashes for a while. The ready fish is very tasty and fresh.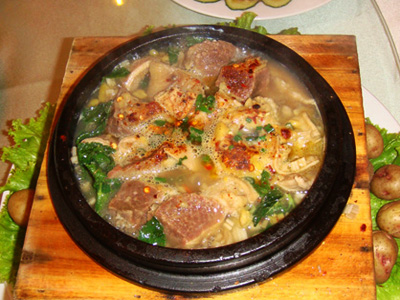 Pebble Fresh Fish Soup

As a unique Bulang dish, the preparation of the soup is quite special. Some big pebbles are obtained from the river bed and washed clean. Then the clean pebbles are burned until they become really hot. The burning pebbles are put one after another into the vessel that contains the fish soup. Very soon the soup is boiling due to the heat that the burning pebbles release. At the moment salt and other seasonings are added. The soup has a special taste owing to its special cooking method.
Pickled Bull Tendon
It is a very famous Thai dish.Cooking method:Scald the bull head and feet with boiling water and raze off the hair on the skin first, then burn them in fire. After that they are dunked in fresh cold water and razed again. After they are cleaned entirely, they are stewed for a long time until soft. Finally the bones are removed and the remains are minced and mixed with hot pepper, ginger, garlic and other seasonings. It is ready to eat after been preserved in a pottery vessel for about two weeks. Its tender, refreshing and sour taste arouses the eater's appetite.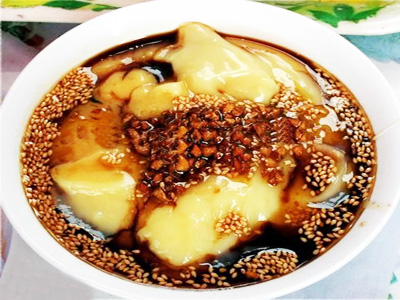 Pineapple Purple Rice

It is a unique Thai food. Firstly the purple sticky rice is dunked in fresh water for seven or eight hours and later mixed with minced pork. Then the mixed rice is steamed in a hollow pineapple. The rice is very delicious for it has absorbed the sweet taste and scent of its container – the hollow pineapple. Apart from its delicious tastes, the pineapple rice also nourishes the blood and profits the lungs.
Rice Paddy Snails Cooked with Pickled Bamboo Shoot
The snails from the rice paddy are cleaner than those from a lake or pond. Before cooking, the living snails are kept in clean water for three or four days to let them give off their body refuse and sands. When cooked, the end of ea snail is removed so that the seasonings can penetrate. A variety of seasonings like ginger, green onion, pepper, garlic and chili are added to the snails and pickled bamboo shoot which are cooked together for about 10 minutes. This special dish stimulates the appetite and good for eating rice and drinking beer. It is a very common dish that can be found in any Thai community or restaurant.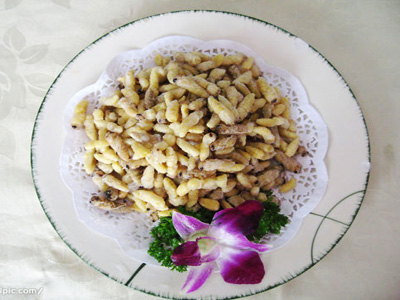 Shapie

It is a typical Wa dish with cow bowels as its major materials. Cooking method:Firstly the cow bowels are cooked in the boiling water for a few minutes to get rid of the bitter taste and unpleasant smell. Then they are chopped and mingled with pepper, hot chili, garlic and ginger etc. This special Wa food is a sour and bitter in taste and is the best food for entertaining guests from afar.
Steamed Chicken in the Banana leaf
This special traditional Thai dish is noted for the tender meat and spicy flavor. Cooking method:A chicken is put on the chopping block and beat it slightly using the back of the chopping knife. After beating the chicken for a while, it is salted with shallot, ginger, sauce, garlic and hot pepper for half an hour. Finally the chicken is packed by a big banana leave and steamed in a wood vessel.
Stewed Chicken with Papaya and Ham
It is a special local food that has some medical effect. As the name implies, the dish uses pork ham, papaya and local chicken as material.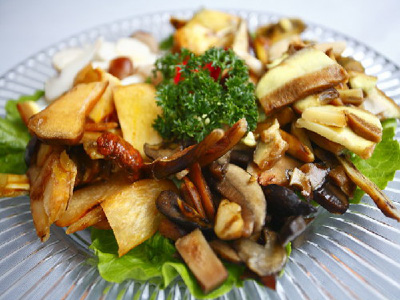 The Fragrant Flat Rice of the golden Autumn

Thai people basically live in the humid and hot subtropical or tropical regions where they grow rice paddy as their staple stuff. Besides they like sticky rice in particular and plant a sort of sticky rice called Guba which is marked by its big and full grain. Just as the saying goes "If one family steams the Guba sticky rice, the whole village will smell the fragrant scent". This top quality sticky rice is a very important material for preparing the Thai food for festive occasions.The delicious Flat Rice is made of this special sticky rice. When the rice is harvest, Thai people use iron ladle or bowl to remove the chaff. The rice is washed in fresh water before being stir fried in the iron pot until turning golden in color and fragrant in smell. The steamed rice is then put on a bamboo pan to get dried. Finally the flat rice is packed in fresh banana leaves, so the rice also gets the refreshing scent of the leaves while retaining soft and juicy. This typical Thai food is often offered as sacrifice to Buddha or guests as best food and gifts.
Tips:In the lunar September when the fragrant fresh rice is ripe and harvested, tourists can buy various tasty Thai snack food from the Thai women food vendors on the street.
Tomato Nanmi
Being a special Thai dish, it is indeed a sort of jam made of tomato. When preparing the food, tomato is grilled on fire and peeled later. The peeled tomato is mashed and mixed with shallot, garlic, hot chili, cilantro and salt etc. The sour and appetite- arousing tomato jam is often eaten with mint and bitter bamboo shoot.
Baba Juan粑粑卷
Pig Blood Noodles猪血米线
Dilute Peameal Noodles稀豆粉米线
Cooking Ham and chicken with Papaya火腿木瓜鸡
Chicken Noodles鸡肉米线
Dried Chinese banana芭蕉干
Walnut Sugar核桃糖