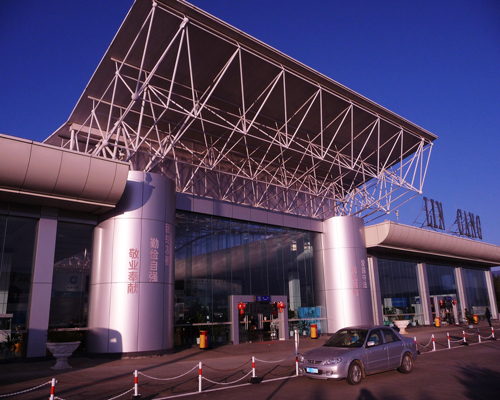 By Air
Civil Aviation
Lincang airport, west of Boshang Township and 22.5 kilometers south of Lincang City, is a key port to connect Yunnan Province and southeastern and southern Asian counties. For the transport between the airport and the city center, travelers can take either the taxi or the airport shuttle bus whose schedule is subject to the arrival of flights.
New Airport Operational in Southwest China
Lincang Airport (IATA: LNJ, ICAO: ZPLC) is an airport in Lincang, Yunnan, People's Republic of China. The airport started operation on March 25, 2001. The airport is 22.5 km from the center of the city in the town of Boshang.
A new airport went into operation Sunday in Lincang County of Yunnan Province, southwest China, with the landing of a Boeing 737 passenger plane.
Lincang Airport is located in the town of Boshang, 22.5 kilometers away from the seat of the Lincang County government. It is the 10th civilian airport in Yunnan.
Lincang, with a population of 2.2 million, is a prefecture in southwest Yunnan. It is a major producer of tea and sugar cane.
Priceline offers numerous flights to and from Lincang Airport. Priceline searches thousands of airlines and flight schedules providing you convenient flight times to and from Lincang Airport. Lincang Airport is located in Lincang, China. With priceline, flying to your favorite Lincang Airport destination is a simple mouse-click away.
For further information and service, please dialService hotline:0883-2683188
Ticket booking:0883-2131168
Complaint hotline:0883-2683110
Bus
Highway
Lincang is a most convenient land port on the route from southwest China to Rangoon, capital city of Burma. Three counties of Lincang, i. e. Cangyuan, Dima and Zhengkang are connected with Burma and the total national border is 290.791 kilometers in length. Today there are three Grade II national ports and five highways in this city directly linked with those of Burma. From Qingshuihe of the national port of Mengding to the important Burman town of Nashu is only 187 kilometers, and to the second largest city in Burma – Mandele is 457 kilometers. From Kunming - the capital city of Yunnan to Rangoon – the capital city of Burma is 1,892 kilometers in mileage. Owing to its strategic location and gorgeous subtropical scene, Lincang is often called "the gold city on the national border".
All the eight counties in the prefecture are well linked by high grade highway, some of which are built under lots of very dangerous and difficult geographical condition. Therefore some of the highways can be viewed as a manmade landscape or miracle. At the guests bus station travelers can take luxurious sleeper long distance buses to such destinations as Kunming, Guangtong, Xiaguan, Xiangyun, Baoshan, Cangning, Jinghong and Fengqing etc.
Ticket booking: 0883-2123227
Information: 0883-2150741
Boat
Waterway Transportation
Each day many freight ships sail along the rivers of Lancang, Nu and Xiaohei which all flow to such southeastern countries as Viet Nam, Laos, Cambodia and Thailand etc. But so far there are no guest routes on these rivers.
Local Transport
Public Transportation of the City Zone
The modern public transportation system, which consists of a number of bus lines and taxi service, makes the travel within the city zone easy and pleasant. The airport shuttle bus station is in front of the Tower of China Construction Bank. Due to the local topography, the railway system is less developed. Consequently travelers normally prefer long distance bus or airplane to rail.