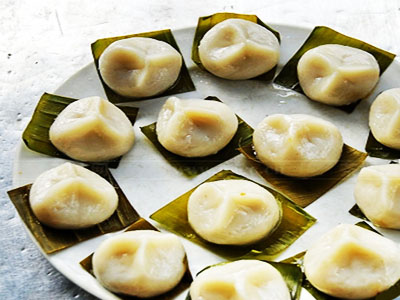 Ba Ba food in Simao

Water nut-shaped Ba Ba, thin and soft, not greasy, is a popular food in Jingdong, Zhenyuan, Jinggu, the Mo River and Simao area which are usually used for entertaining the guests.
Fried food in the Mo River, Simao
This fried food is called "Ma Cui" in local language in the Mo River area. As a kind of special Spring Festival food, Ma Cui is usually made in the shape of flowers, birds, fish or some other small animals with power and then fried. Thus comes into being the crispy and flacky, fragrant and sweet, glutinous but not greasy "Ma Cui" food which is considered both as delicious glutinous rice food and folk handcraft to relatives and friends during Spring Festival.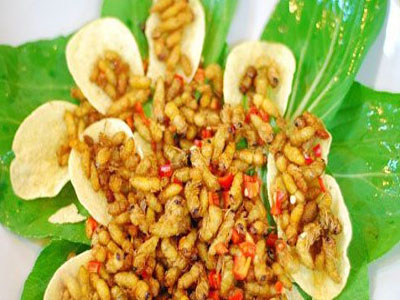 Ox Sa Pie of Dai minority in Jinggu county, Simao

Ox Sa Pie, specially cooked, is a well-known dish for guests when festivals or weddings are celebrated around Dai minority, Jinggu county. They cook this dish with the local yellow ox whose back-meat is burnt yellow, cut into filiform, mixed and stirred with cooked tripes, ginger, garlic, pepper, peanut pieces and other perfume and condiments, added by boiled and filtered ox-sausage water or bile. Next will be a busy time for your mouth and stomach. It is not only some kind of soft, tasteful, fragrant, colorful food, but also a medicine which invigorates the stomach, reduces hot, and whets one's appetite.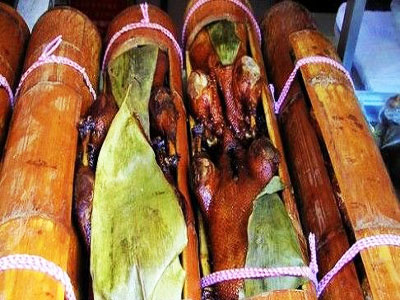 Sour Bamboo Shoot Braises Fish, Simao

It is a popular food in Simao area which is sour, hot and fresh. It is cooked as follows: scale the fish and take out the inside organs first and then fry the sour bamboo-shoot cooked before put into the water. After the water boiling, we could put the fish into it together with the condiments like scallion, ginger, pepper, Chinese prickly ash and monosodium glutamate, etc.
The chicken meat rice of Wa ethic group, west alliance, Simao
The chicken rice, being delicate, sour-hot and good for stomach, is pretty good dish for guests. The cooking is like this: jab the cock died with bamboo sticks then burn its feather and pull out the root. After taking out the inside organs, we will chop it into pieces and put it into pot with cold water. When the water is boiled we should put in rice and some condiments like sour bamboo-root ginger, sesame, pepper, Chinese prickly ash, wood pulp, lemon grass salt, opium, perilla seed and stir continually till it becomes the gruel. Tourists would taste it in the Wa ethic restaurant of local custom scenery spot, washing horse park in Simao area.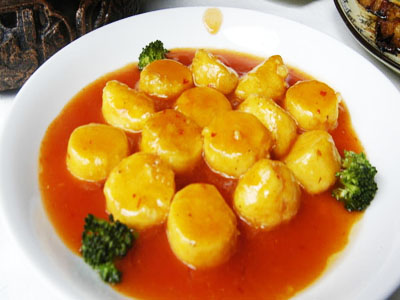 The chicken Tofu in Simao, Simao

The chicken Tofu has been a traditional famous dish on wedding party for more than one hundred years. The ingredient of the chicken tofu is chicken meat and eggs. Because it looks like fresh pig brains and tastes soft and sweet like tofu, both the young and the old like this nutritious food.
The Cicada Meat Ball of Dai Minority, Simao
Also called "Zhi Liao" in local language, the cicada is quite a special local food for visitors when made into meat-ball.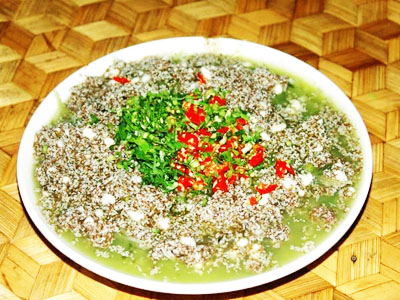 The Cold Sour Ant Eggs, Simao

When summer comes, people in Dai villages of Menglian county would enjoy the cold sour-ant eggs in sauce which is full of protein and has the function of strengthening the digestive organ, keeping off the hot, eliminating disease. The sour ant is some kind of thin and yellow ant in tropical forests among which the adult ones are with dense sour smell. These ants usually build some round nest in the jungle or tree crotch which are the birth places of white and soybean –shaped ant eggs, the smallest and most fragrant egg in the world. It becomes the first class food for visitors for its rich protein and good taste.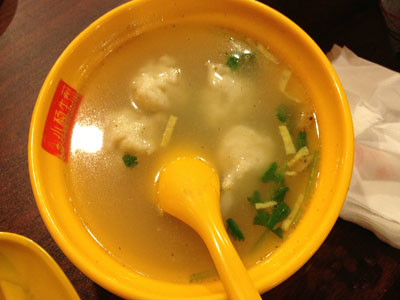 The Fried Meat Ball in Soup , Simao

It is a traditional dish for visitors when wedding or funeral in Mo River. Pu Er and Simao area among which Mo River is more famous. Considering as the most important and delicious dish for it is crisp and soft, fragrant and sweet, this fried meat-ball in soup is usually packed home by guests as "Yan Shui", a local custom.
The pickled locust of Mo River area, Simao
The Mo River people often catch the locus which do harm to the corns and pickle them as food. It is locally famous for entertaining guest and sending to friends as presents.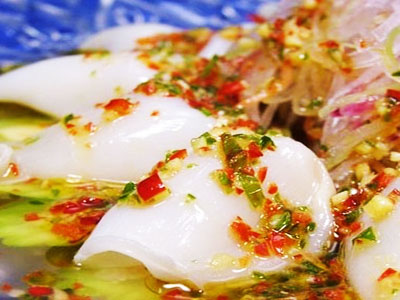 The pig blood "Bai Wang" of Ha Ni minority, Zhenyuan County, Simao

When Spring Festival is around, the Ha Ni ethic group of Zhenyuan county will kill a pig and make the delicious pig blood "Bai Wang" to entertain relatives and friends. Such custom has been thousands of years in Ha Ni history and the traditional way of making it like this: first put some fried and cold salt in the basin for blood. When the blood is falling into the basin, someone should stir it without stopping till the hot blood turns cold.
Another work is to cut the meat of the pig leg and the live into pieces, string them together with bamboo ropes, boil them in the pot and cut into thin chips, add into some condiments like Chinese prickly ash, pepper, coriander, ground pepper, amomum, tsao-ko peanut powder and salt and stir them again and again. Then pour the cold blood and some cold water into the meat. The last thing is to put some charcoal fire on the basin, covered by a winnowing pan till the food seems like bean-starch jelly.