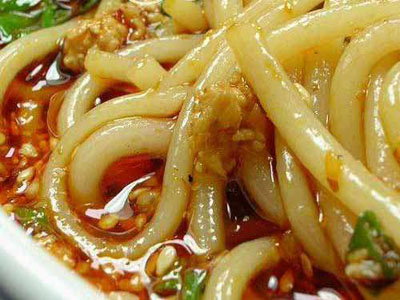 Yuxi Food

Sour spicy is the favorite taste of Yuxi people. So dishes here are kind of spicy and sour. Famous dishes here are Spicy chicken soup with herbs on Yudai Road, Roasted duck on Daying Street, Cold Rive Noodles, Ice Porridge etc.
Special Local Products: Tonghai bean powder candy; sesame pieces; Huaning dried rice noodles; 'three treasures' on Mt. Yuanlao (beet, Citou Cai-a kind of potherb with thorns and Yangnai Cai (a kind of potherb with sheep-milk-like juice).
Bao Shuang Cui, Yuxi
Tripe, chicken and duck's gizzard are the main materials of the dish. Cook it in hot oil and quickly fry them. The dish characterized by crisp, tender, pure and fragrant.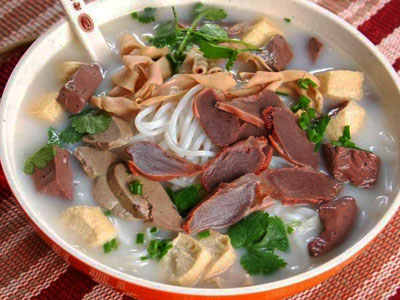 Fat meat rice noodle, Yuxi

When mentioning typical food in Yuxi, the residents in Chengjiang who have live in the 1930th and 1940th will all agree to give highly praise to the delicious taste. It is especially true to the Fat Meat Rice Noodle Restaurant operated by Zhou Pei and Zhou Can brothers, which is well known by the old and the young and has a good reputation all over the city.
Jiangchuan stewed dish, Yuxi
Jiangchuan stewed dish integrated the fresh, tender, fragrant and spicy characters of stewed dish and local traditional flavor. Stewed sour and hot chicken, stewed fish and stewed pig's feet are cooked with Jiangchuan local chicken, fresh fish, or pig's feet. The soup is cooked by pig's bones, mix with natural pickle vegetables, pickle pepper, and other natural seasonings, as well as Chinese medicines handed down from the ancestors. No herbs or spices are added. The taste of the dish is sour but not tasteless, hot but without dryness heat, fresh but without taste of raw meat. The soup is rich in fragrance and tastes refreshing.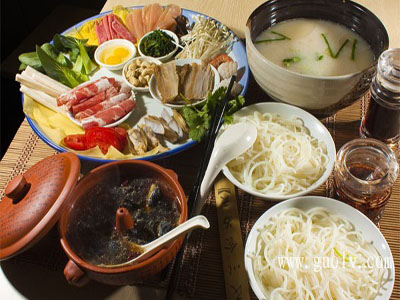 Stewed eel, Yuxi

The soup looks red and bright, and the fried pork skin add to the flavor. The dish has the faint mint scent and the leek add to the delicate flavor. Eels have tender and strong taste. It is not greasy thought oily. There are many other ways to cook eels, for example, the red oil eel rolls, stir-fried julienne eel, which all have spicy and delicious taste.
Stewed Loach, Yuxi
It is thoroughly but not mushy. When eating the loach, put the fish head in the mouth and drag out the bone. It is exceptional delicacies.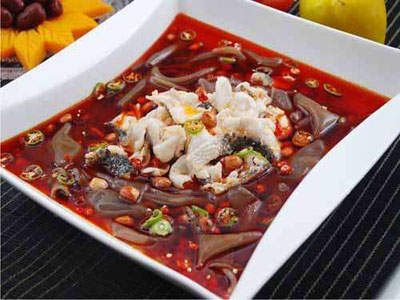 Chengjiang lotus root starch, Yuxi

It has little impurity. The color is pure white. It contains little water, and more Vitamin C and phosphorus disaccharides. The lotus root starch in Chengjiang is famous because most of the lotuses here do not have seedpods at top. As a result, the lotus root is stronger and fatter. It is more juicy and tender. The starch, which collect most of the nutrition, is high in quality. The nature of Chengjiang lotus root starch is quite mild and has a good effect for curing stomach and intestine disease. It is not only a healthy and nutritious food, but also can act as assistant medicine. It is a good present for the patients.
Flavored Stewed salt fish , Yuxi
Flavored stewed salt fish is a traditional special delicacy in fishing villages beside Fuxian Lake and Xingyun Lake. It is cooked by fresh crucian, chub, or Kanglang Fish, mixed with salt water, prickly ash, Ba Guo, paprika, and other seasonings. The taste is pure, fragrant, and delicious. The fish is savory and crisp, which is a delicacy of highest grade.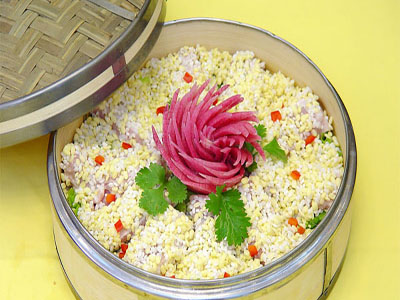 Lucky food Macui Cake (crisp cake with sesame), Yuxi

Compared with Macui Cakes made by other nationalities, the Macui Cake of Dai Nationality is not made by adding buck, but use the root of a certain plant to make the cake becoming crisp, which is called "Macui Drug". Although the making process is not difficult, it requires serious work. The materials are very simple, for example, sticky rice, Macui Drug, sugar (either white sugar or brown sugar), and so on.
Stewed fish in a copper pot , Yuxi
Stewed fish in a copper pot is cooked in a special copper pot and use the spring in deep fish hole, called "True Water". Put fresh Kanglang Fish (now catfish and grass carp are used more) in the pot. Then add appropriate seasonings. The duration and degree of heating must be well managed. The fish is delicate and tender. Besides, eating it with Mingxing Dipping Water and yam rice, that must be an unforgettable food.
Yuxi Restaurants
Baochenhao Shifu
宝臣号食府
35 Qiyang Lu, Yuxi
玉溪市棋阳路35号
Phone: (0877) 2039955, 13988440215
Categories: Yunnan
Authentic Yuxi and Yunnan cuisine in a traditional courtyard setting, live traditional Chinese music performances in early evenings
Café Fin du Monde
帝盟
Number 32, Block 3, Xiaomiao Jie, Hongta District, Yuxi
玉溪市红塔区小庙街三组团32号
Categories: Bars, Cafés, Chinese, Western
Yuxi's first Western-style cafe/restaurant/bar
Lao Dong Zhou Huang
老东粥皇
Xujiawan Lu, Yuxi
玉溪市许家湾路
Phone: (0877) 2032428
Categories: Cantonese, Dim Sum